SWIM/SURF
Drupe: Around the World With an International Staff: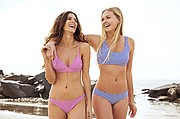 When Mireya de Andrés told her parents she was quitting her banking job in Geneva, Switzerland, to start a fashion line, they thought she was crazy. Fashion seemed to be on the flip side of the finance world.
De Andrés, who studied business administration and management, had worked in the family's decades-old real-estate company in Valencia, Spain, before she headed to her next job in Switzerland. But banking wasn't her bag.
She eventually convinced her parents that fashion was her passion. "I am very creative," she said. "I love to draw. Being in an office was a nightmare for me. My life was not fulfilling."
Her father finally embraced her career transition, but there was one condition. She had to find a financial backer. She didn't have to look far. Her brother, Dimas, who works in the family's commercial real-estate business, became a cofounder and investor in her new company, called Drupe, a stone fruit generated by the palm tree and other fruit trees.
De Andrés moved to Los Angeles to start her new company, a lifestyle brand that makes casual clothing and swimwear for men and women.
The beach-oriented brand is organized in a millennial fashion, with Skype meetings between de Andrés and her staff scattered all over the world. Her designer, Lucia Ribes, is in Valencia. Her print and pattern designer, Anna Caldas, is in São Paulo, Brazil; her public-relations person is in Los Angeles; and her swimwear factory is in Barcelona, Spain. She has freelance designers in England.
The banker turned swimwear and clothing manufacturer describes the line as relaxing, colorful, a little bit sexy and edgy.
She works with her Brazilian designer to come up with unique prints, such as a ladybug or green speckles print for the Lycra swimwear fabric she uses. Her silhouettes, many reversible, can be skimpy or more modest. Bottoms come in an abbreviated bikini form or higher-rise shapes that cover more territory. Tops come as triangles and bandeaux as well as halters.
Each bikini set wholesales for about $45. While most of Drupe's sales have been online, de Andrés will be expanding her sales to stores after she finishes up a big rollout of her line in Mykonos, Greece, later this summer.
For more information about Drupe, go to www.drupe-la.com/contact.