SWIM/SURF
Horizon Swim: A Swimwear Label With a Personal Touch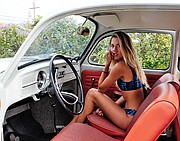 By day, Jessi Taylor is an executive assistant at a Los Angeles advertising company. By night she is a swimwear designer who makes her own patterns and sews her own swimsuits—one by one—for her line called Horizon Swim.
"I am a one-person show right now," said Taylor, who graduated in 2007 from the Fashion Institute of Design & Merchandising in Los Angeles. "I have been sewing forever. I have three sewing machines that I have set up like an assembly line. I can crank the swimsuits out pretty fast these days. I can do three to five a night."
Taylor has always been in love with the beach culture. Her years of working at Quiksilver and Roxy taught her how to make patterns and about the swimwear industry.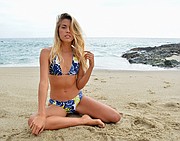 Taylor buys her nylon/spandex fabric from a supplier in downtown Los Angeles that only carries custom prints to help distinguish her line from other swimsuit labels. She designs her patterns, cuts the fabric and sews the suits in various bikini silhouettes.
Taylor's bikini bottoms tend to have more cheekiness to them, but they come in mid-rise silhouettes or styles that are more revealing. Tops are made in triangle shapes and sports-bra styles.
While her Spring/Summer collection was filled with vivid turquoise, orange, blue and pink hues, the Resort collection that debuts in August veers more toward desert-influenced shades such as beige and rose.
Also for Resort, she is working on more surf and action-girl silhouettes that are lifestyle friendly. "A lot of the styles I am creating are reenforced with elastane at every seam," she said. "I have sent them to surfer girls and girls who play volleyball to get their feedback," she said.
Currently, Horizon Swim sells online, with each piece going for $58, including shipping and sales tax.
For more information, call (503) 501-8839 or go to www.horizonswim.com.