TECHNOLOGY
Lectra Introduces Fashion PLM 4.0 at Industry 4.0 Event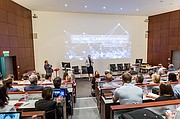 French equipment and software maker Lectra recently introduced its latest product lifecycle management software at an industry event at the Paris-based company's technology center in Bordeaux.
More than 100 industry professionals, including representatives from brands and manufacturers such as Swedish fast-fashion house H&M and Shanghai-based Dayang Group, gathered at the two-day conference to examine "how Industry 4.0 is shaping and transforming the global fashion and apparel business."
Industry 4.0 is a manufacturing concept that encompasses automation and data exchange. Some call it the "smart factory." Lectra referred to it as the "fourth industrial revolution." Industry 4.0 includes the Internet of things (including Internet-enabled devices and equipment) as well as cloud computing and cyber-physical systems that allow equipment and humans to communicate and cooperate in real time.
"Industry 4.0 is not only revolutionizing how manufacturers operate but also how brands and retailers need to function," said Lectra Chief Sales Officer Edouard Macquin. "Lectra's goal is to provide its customers with the technology and support they need to thrive and succeed in this new digital marketplace."
Workshop and presentation topics at Lectra's event included innovative new retail models and the advantages of a digitalized supply chain.
The technology company also introduced its Lectra Fashion PLM 4.0, a modular PLM solution that "acts as a connected, intelligent nerve center for today's digital supply chain." The solution allows users from across the supply chain—from development to design to production—to work together in a system that can be adapted to different business models and allows companies "to jump on trends quickly."
"What interests us as a vertical manufacturer is connecting our physical supply chain with our virtual supply chain—our software, ERP [enterprise resource planning]," said Fred Walck, director, project management, for Mexico-based clothing supplier Grupo Kaltex. "For us, Lectra offers the most comprehensive solution: an end-to-end system designed specifically for fashion and apparel."
Lectra provides solutions designed for industries using fabrics, leather, technical textiles, and composite materials to manufacture its products. The company has more than 1,500 employees and customers in more than 100 countries.