EVENTS
Gunn Coming to Ideation 2017 LA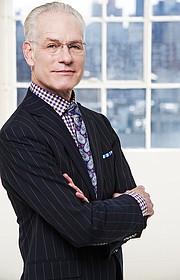 Gerber Technology is preparing for its Ideation 2017 conference, set for Nov. 1–3 at the Sheraton Universal Studios in Universal City, Calif. The event will feature a speaker series, focus sessions and collaboration activities as well as an interactive studio where attendees can get hands-on experience with Gerber products.
"Project Runway" co-host and mentor Tim Gunn will discuss the impact of digitization on design and manufacturing with Karsten Newbury, Gerber Technology's senior vice president and general manager, at the conference. Gunn rose to fame on the fashion reality show after a career spent in the fashion industry as design chair of the department of fashion design at Parsons School of Design. He went on to serve as chief creative officer at Liz Claiborne Inc. and now serves as fashion dean at Liz Claiborne's successor company, Fifth & Pacific. He is also the author of several books, including "Tim Gunn: A Guide to Quality, Taste and Style," "Tim Gunn's Fashion Bible: The Fascinating History of Everything in Your Closet" and "Tim Gunn: The Natty Professor: A Master Class on Mentoring, Motivating, and Making It Work!"
"Tim Gunn's energy and passion as keynote speaker at Ideation 2015 was both inspirational and entertaining. His dedication to design education and technology-led solutions will help attendees gain important knowledge and invaluable insights on how to navigate and thrive in an ever-transforming market," Newbury said. "Mr. Gunn exemplifies the dynamism, creativity and innovation of fashion, and we are honored to welcome him back to ideation." For more information or to register for Ideation 2017, visit www.gerbertechnology.com/ideation.
RELATED STORIES