TECHNOLOGY
Henry Cherner, AIMS360 Managing Partner, 66
Henry Cherner, a Los Angeles pioneer in software programs for the fashion industry and an apparel industry veteran, passed away suddenly from a heart attack on Sunday. He was 66.
Cherner, was in the apparel business for decades before transitioning into the world of fashion technology as a managing partner of software company AIMS360. He was also a founding board member of Fashion Business Inc., a Los Angeles nonprofit business incubator that helped startups and young apparel companies become more successful. He was on the FBI board since the organization's inception in 1999 and was an advisory board member of the California Fashion Association.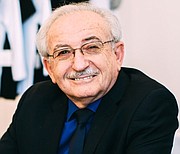 Through FBI and his affiliations with a number of fashion schools and universities, he was instrumental in teaching thousands of fashion students and aspiring apparel entrepreneurs how to use software solutions such as enterprise resource planning (ERP), an integrated program to manage core business processes. He also donated millions of dollars in software programs to be used in classrooms in some 14 educational institutions.
Cherner, whose parents were Holocaust survivors, was born in Gothenburg, Sweden, moving to St. Louis when he was 3 years old. A year later, his family moved to Los Angeles. He graduated from Fairfax High School and later received his bachelor's of science degree from California State University – Northridge.
His first foray into the apparel industry was with his own company called Casablanca, which made leather goods inspired by the movie "Casablanca."
From the mid 1970s to the late 1980s, he was managing director of import/export for Condor, a sportswear company, as well as owner of Zephyr Group, which manufactured children's suspenders and accessories licensed for Disney Products. In the early 1990s, he was operations manager for OK SAM, which imported women's rayon clothing from Bali, Indonesia.
By 1992, he had become the president of AIMS Technology Solutions Inc. and later one of four managing partners at AIMS360, the successor to AIMS Technology.
Cherner was a generous donor of his time and money to help fashion students, burgeoning apparel companies and small businesses get off the ground. Early this year, he donated more than $200,000 worth of AIMS360 software to FBI's Fashion Merchandising Program.
"He really went out of his way to help us to help the people we were helping," said Frances Harder, FBI's founder. "He got what we were doing and always supported us. It was sad to see him go."
Most recently, Cherner was focused on educating students and young people about software systems and technology. "Henry had a heart of gold. He was one of the original FBI board members," said Trish Concannon, FBI's executive director. "He had a passion for teaching people."
Bob Berg, director of international business development at Sourcing at MAGIC, met Cherner some 15 years ago when Berg was working at Hana Sportswear and was looking at software programs to control costing and production. "Henry was a very knowledgeable person but a very down-to-earth person. You would never know how successful he was and how generous he was with his time to help companies," said Berg, who also was an FBI board member for several years. "He was a really good person and a good ambassador for the industry. He was always a real pleasure to talk to and had time for everybody."
Rob Greenspan, the president of Greenspan Consult and an FBI board member, said Cherner offered one of the first computer systems for Los Angeles' apparel industry that was affordable for smaller and mid-size companies. "He was young and vibrant," Greenspan said. "He cared about the people in the industry and enjoyed helping people."
Ilse Metchek, another long-time apparel industry veteran and president of the California Fashion Association, was shocked to hear about Cherner's death. "Henry was off on his next career," she said. "His next avocation was to make a very clear difference with the business and professional knowledge of college students from all over the country."
Shahrooz Kohan, one of AIMS360's four managing partners, said everyone in the office was surprised to hear of his death. "Driven by his passion for education, Henry played a pivotal role in helping shape AIMS360 and has been a valuable asset to this company throughout the years," Kohan noted. "He was around the fashion industry for a very long time and people really respected him and let him help them when they were getting their business going. They really took his advice into consideration. I was always surprised to hear a client say, 'If it weren't for Henry, I wouldn't be here.' Some of the brand owners had heard him talk when they were students. He gave them tips and advice."
His daughter Ariella Schrader said he was passionate about educating and inspiring students so they could be successful. She said he touched many people across the industry and treated everyone he came in contact with as if they were family. "Whether it was a small phone call with a student, or an important meeting with a big client - he took great pleasure in helping other people succeed," she said. "He loved his career and often brought his kids to visit clients, instilling the same ethics he used in business with his family. On July 16, the LA fashion industry lost an iconic figure and the Cherner family lost a loving husband, brother, nurturing father and doting grandfather."
Besides his daughter Ariella, Cherner is survived by his wife, Miriam Scharf Cherner, two sons, Dac and Noah Cherner, daughter Leanna Cherner and granddaughter, Presley Schrader.
Funeral services are scheduled for 10 a.m. on Tuesday, July 18, at Mount Sinai Cemetery, 5950 Forest Lawn Drive, Los Angeles. - Additional reporting by Andrew Asch
RELATED STORIES