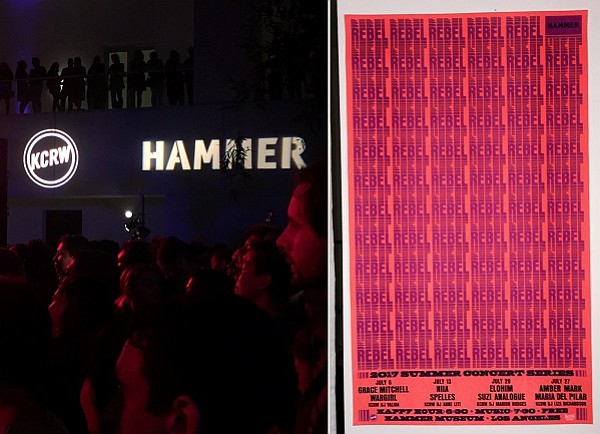 Fashionistas x Music Lovers at Rebel Rebel
Los Angeles's Hammer museum and Southern California radio station KCRW are hosting a series of free eclectic concerts and DJ sets on Thursday evenings in July at the museum in L.A.'s Westwood neighborhood.
The series, titled "Rebel, Rebel," puts women on center stage. It lived up to its name on July 13, with an evening headlined by with the sultry sounds of Niia and her live band. Her model looks and Sade-inspired vibe attracted the fashion and music crowd. Opening for her was local songwriter Spelles who equally gave way to that cool, jazzy sound and vibe. Between sets, the ever-popular DJ Anne Litt spinned a variety of music sets from House to funky old school '70s and everything between.
Westside fashion was on high alert that evening with looks ranging from sleek and sexy to rocker and SoCal denims. For many of the women, stilettos were the shoe choice—even for dancing. This is one summer event worth checking out. The museum is also open during the concert series for those who need a little art break between music sets and dancing. It's an all-age event so an evening with the family can also be a night out dancing.
The Hammer is located at 10899 Wilshire Blvd.