PREMIERE VISION NEW YORK
Offering Everything from European Fabrics to Local Manufacturing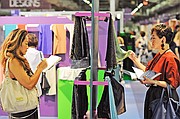 NEW YORK—"Fashion is perpetually new," said Guglielmo Olearo, international exhibitions director of the Première Vision New York textile show, which took place July 18–19 at Pier 94 in Manhattan. In its 35th edition, Première Vision featured 322 exhibitors from around the world—including producers of textiles, leather, trimmings and accessories—as well as fashion designers looking for suppliers and inspiration. "Today fashion is finding a new business model," said Olearo. "They need to adapt, reengineer their systems."
Olearo said there are two big market trends.
"The first is linked to sustainability—to smart products, taking care of the environment. The other macro trend is re-shoring," he said, referring to the shift toward more local manufacturing by some companies in the fashion industry.
Though large, high-volume fashion brands will likely continue production in China and elsewhere overseas, "in Europe, the surrounding countries like Bulgaria, Romania and North Africa are fully booked now," Olearo said. "The time-to-market has to be quicker than in the past because the collections are renewed with higher frequency."
Indeed, local manufacturing is a focus of Première Vision's partnership with the Council of Fashion Designers of America. Now in its second year, the partnership also supports emerging designers with scholarships and low-minimum orders. Though most exhibitors at PVNY are international, "we host companies from the New York area that are specialized in garment manufacturing," Olearo said.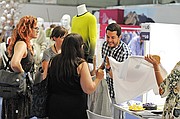 One such company was New York Binding Co., which creates custom trimming, embellishment, pleating and more from its factory in Queens. NYBC came to Première Vision as part of CFDA's Manufacturing Initiative. "They're showing a lot of support to manufacturing businesses here and enabling them to grow and stay current," said Anni Levin, who handles social media and marketing for NYBC.
Another New York–based company at this edition of Première Vision was Vespertine, which manufactures reflective bicycle apparel using sustainable fabrics in Manhattan's garment district.
"The idea is that it's beautiful clothing with the added bonus of being reflective at night," said designer Sarah Canner. She comes to the show twice a year because "it brings all the vendors together and makes it so much easier. I'm sort of a one-man band. Seeing the fabrics in real life is always exciting."
One textile producer she connected with this season was Tintex, a Portugal-based company that supplies high-end brands such as Armani, Burberry and Ralph Lauren and recently strengthened its commitment to sustainability.
"People think something sustainable is not beautiful," said Ana Silva, head of sustainability for Tintex.
Ricardo Silva, head of operations for Tintex, pulled out a sample of an organic cotton with a lustrous finish and a textured jacket made from the recycled fabric Ecotec.
"When they feel the fabric and learn about the technical performance and the process behind it, they are really amazed," he said.
Olearo believes that these developments in the fashion industry are helping to reach today's more-conscious consumers. "They are extremely informed thanks to social media and new technology," he says. "You have to make people go, 'Wow!'"
Heather and Kevin Maldonado, owners of Studio Bert Forma, were at Première Vision New York with French mills Velcorex and Philea, Korean mill DK&D and Turkish mill Bezsan Tekstil. Studio Bert Forma is based in Los Angeles with an office in New York.
Kevin Maldonado said the mood among designers and fabric buyers seemed more upbeat than in recent seasons.
"The nice thing is with all the shows, most of our major customers came," he said.
Among the brands spotted at the show were Trina Turk, Marciano, NYDJ, Bonobos, Nau, Cuyana, Banana Republic, Tommy Hilfiger and Diane Von Furstenberg.