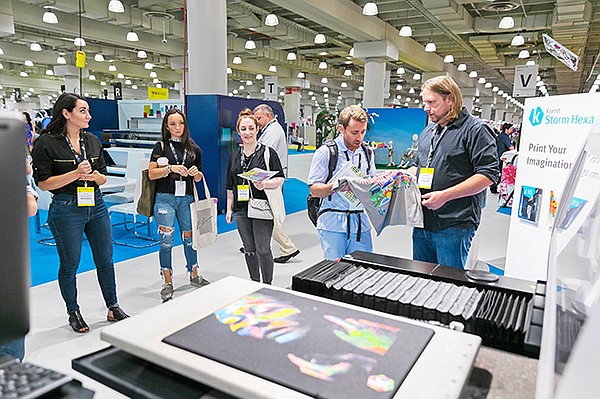 TEXWORLD USA
Spanning the Supply Chain from Fiber to Fabric and Print to Production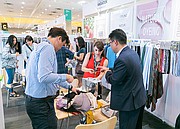 NEW YORK—Uncertainty about international trade was a major concern at Texworld USA, the textile sourcing trade show, which took place July 17–19 at the Javits Center in New York. Yet as exhibitors showed off their wares, they also focused on other dominant trends in the industry, including mass customization and the next generation of designers.
This edition of Texworld USA was the largest ever, featuring 851 exhibitors from around the world across four shows, including the debut of the digital-printing showcase Avanprint. "One supply chain is what we're trying to offer now," said Show Director Jennifer Bacon.
Marketing Manager Teodora Nicolae added, "You can source your fabrics, walk next door to Apparel Sourcing USA and source manufacturing capabilities, then go to Avanprint and find out what's new in digital printing, then go to Home Textiles Sourcing. Especially for the brands who have a foot in apparel but also do home collections, it's the most comprehensive sourcing platform."
Among the offerings at this edition of Texworld were six international pavilions highlighting goods from across the globe, including Korea, Taiwan and Turkey mills. "Most of our exhibitors are international companies, so designers and other people here are usually sourcing outside the U.S. They're curious how trade under [the] Trump [administration] is going to affect the way they do business," Bacon said.
"[The Trans-Pacific Partnership trade agreement] having disappeared—for lack of a better term—it's creating some uncertainty," Nicolae said. "Yesterday our most well-attended seminar was on sourcing preference and countries that are duty-free. Egypt is a big one right now, so we have a new Egyptian pavilion in our Apparel Sourcing area. Everyone is sourcing from China but also looking for other opportunities for duty-free. Africa is another, and it's growing."
TPP was the elephant in the room at a presentation hosted by Samil Spinning and Buhler Quality Yarns, which Buhler Chief Executive Officer Marty Moran described as a "coming-out party" for the new relationship between the two companies. In March, Korea-based Samil announced its acquisition of Buhler, which has operations in Georgia, in an all-cash deal. At the time, it was reported that the U.S. pulling out of TPP was a major reason for the deal because U.S.-produced yarns from Buhler would allow Samil to avoid high tariffs on products it sells in the U.S. However, TPP was mentioned only in passing at the presentation.
Instead, Buhler and Samil focused on their new strategy. "Our network is immense," said David Sasso, Buhler's vice president of sales, referring to the two companies' trading partners in the U.S., Europe and Southeast Asia. "We are prepared to play in the global market."
As to products, "at Buhler Qualily Yarns, we're going to continue to make the yarns we've made, with some additions from Samil's special fibers," Moran said, referencing the range of performance fibers such as Ecosil, Tencel and DrySil that Samil specializes in.
"I think 'Made in the USA' has to be something special," Sasso said. "The winner part of the business is the specialties—the impulse purchase, the consumer saying, 'I like that, I'll buy it!' As consumers demand faster and faster speed, it's not about the cost. It's about selling at first price," he said—in other words, full price instead of a discount.
Buhler was one of a number of U.S. companies at Texworld USA, including Los Angeles–based Design Knit, Texollini, Laguna Fabrics, Fabric Selection and SAS Textiles. Lenzing, the Austrian fiber company with U.S. operations in Atlanta, was also exhibiting its new developments in Tencel, Lenzing Modal and other sustainable fibers.
Speed-to-market and mass customization were a major topic among the digital printers at Avanprint. Though it still accounts for only a fraction of the textile printing market, major fast-fashion brands like H&M and Zara have adopted digital printing, which is seeing "double-digit growth," according to Peter Valinski of Kiian Digital.
"We've gone to much faster turnaround times," said Tim Hallett, director of marketing for Kornit Digital. "With traditional screen-prints, the number of screens dictates the costs. With digital, my cost is the same whether I print one shirt or 100. That gives manufacturers the flexibility to respond to market needs almost immediately."
That focus on flexibility and smaller production runs dovetailed with Texworld's startup-designer program, which connects emerging and independent designers with textile producers willing to accept orders with lower minimums.
Texworld also partnered with Startup Fashion, which founder Nicole Giordano described as "a support system for independent and emerging designers" who are taking a nontraditional approach to the fashion business. "They're not waiting for a buyer to pay attention. They're connecting directly with their customers," she said, through e-commerce and social media.
"The industry is starting to catch on," Giordano added. "They want to produce smaller runs, really test the market and understand what people want. Fabric vendors and service providers understand that more. They realize their business needs to shift because this next generation is just doing things differently. They're setting that trend and things are following."