TRADE SHOWS
Why Manufacturers Are Turning to Central America for Quick-Turn Apparel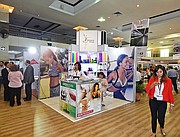 GUATEMALA CITY—The demise of a free-trade agreement between the United States and several Asian countries is breathing new life into the Guatemalan apparel industry.
With intense competition heating up around the world for cheap labor, Guatemala is not the least expensive place for hourly wages, but it is a member of the Dominican Republic–Central America Free Trade Agreement between the United States and six Central American countries. That means that clothing made from fabric and materials coming from the region gets duty-free entry into the United States, lopping off up to 32 percent in tariffs.
And with retailers looking for faster turn on their merchandise, it's a lot more convenient to hop on a six-hour plane flight and be in Guatemala, where there is only one hour's time difference in the summer between Los Angeles and Guatemala City.
Fast turn times was one of the reasons that David Ehrenberg—cofounder of the socks, underwear and T-shirt label Pair of Thieves—was checking out factories during the recent Apparel Sourcing Show, held May 23–25 in Guatemala City.
The Los Angeles label, sold at Target and Macy's, produces mostly in China, but Ehrenberg is eying Central America for faster turns to keep items fresh.
"It's a lot nicer to be closer to your manufacturing base and CAFTA is definitely good," Ehrenberg said.
Quicker production time was also a driving force for Jenna Hansen, the director of product at Taylor Stitch, a casual men's and women's clothing label based in San Francisco. About 50 percent of the company's production is done in the United States with the rest in countries such as Portugal, China and Mexico. "We don't do much production in Central America, so we are looking to increase production here because of the quick turn and the great quality here," Hansen said.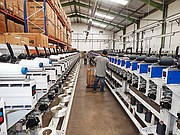 At Liztex, the largest Central American textile mill located outside Guatemala City, there has been an upsurge in inquires about woven and knit fabric. "Business is growing dramatically," said Keith Hull, the new chief executive of the huge mill established in the 1950s by the Habie family.
"One of the reasons is because of the Trans-Pacific Partnership [free-trade agreement]. A lot of people thought they would be able to go to the Pacific Rim to produce. Now they can't with that being canceled, and they are coming back here because we're duty-free," said Hull, a former chief operating officer at Avondale Mills. "I think the brands and the retailers are scratching their heads and trying to figure out the Zara model. The retailers who thought they had a bulletproof formula have found they don't. If they don't sell their merchandise quickly, then it is dramatically marked down or sold to TJ Maxx."
The importance of fast fashion is being revisited by Sae-A Trading Co., a huge South Korean conglomeration that has four cut-and-sew factories in Guatemala City that make T-shirts and other items for retail chains such as Target and Walmart.
Last September, Sae-A, with about 4,000 workers in Guatemala and 60,000 worldwide, employed U.S. designer Cynthia Steffe as its creative director in New York to develop new fabrics with a soft feel and cleaner surfaces to give styles a more sophisticated and updated appearance.
On her first visit to Central America, Steffe toured textile mills in Guatemala, El Salvador and Nicaragua. For her second visit, she was at the Apparel Sourcing Show with Debora Moon, Sae-A's senior vice president, to work on fabrics and styles that fit in with the fast-fashion production cycle. Moon said Sae-A was already working with unnamed customers to sell these goods.
Making a difference
With so much competition in Central America, Guatemalan apparel and textile factories are working to differentiate themselves from their regional and global peers.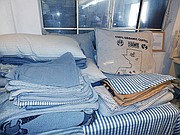 At the Eltitex Group, one of the largest manufacturers in Central America of narrow elastic fabrics, sustainability and efficiency with modern machinery are the goals of the company founded in 1990 by Dr. Antonio Hage, a physician who turned his attention to manufacturing after completing his medical studies.
Hage said the company currently recovers 40 percent of the water used in production with a waste-water treatment and recovery plant. By the end of the year, he wants to increase that to 80 percent.
The factory, which employs 250 workers and has row upon row of sophisticated American and European machinery, exports about 90 percent of its product for use in labels such as Nike, Puma, Adidas and Under Armour.
Hage said he started his ecological push in 2003 and he continues to push with the goal of recuperating 100 percent of the water used in making narrow elastic fabrics. "You have to be innovative," he said. "That is why we are sustainable."
Coming up with a cutting-edge concept was the reason that Iris Textiles started a new division called The New Denim Project, which makes recycled yarns and fabrics out of denim scraps left on the factory floor.
For years, the Guatemalan company made woven fabric used for diapers and kitchen cloths and tabletop products. But the company, launched in 1956 by Peter Engelberg, wasn't expanding as fast as it could. When his granddaughter Arianne Engelberg returned from Israel five years ago to work at the family company, she helped develop the concept of making recycled denim yarn and fabric.
"When I came back, my family and I started brainstorming about how to revamp the company, which was struggling," Arianne said. "My father was already using recycled cotton to make his woven fabrics, something that started in the 1990s when there was the cotton crIris and prices were high."
Brainstorming resulted in a line of eco denim fabric and products launched in 2013. The company's recycled fabric is used for everything from weekend bags to wearing apparel. Last year, a joint project between Iris Textiles was established with Whole Foods Market and West Elm to provide a 12-piece limited edition of tabletop and kitchen items made of recycled denim fabric.
The Engelberg family also works with Industry of All Nations in Los Angeles, which makes ponchos, jackets, shorts and dresses from the recycled denim fabric.
With this new recycled-denim concept, Iris Textiles is hoping to double its revenues in three years. "When we started the project, the idea was to not blend in with the rest of the world or Asia," Arianne Engelberg said. "Clients are not just looking for cheap products but for a story and for something made in a responsible manner. We thought eventually this will be the norm and not the exception. So why not start now?"