HIRSH HONORED
Hirsh Honored by JVS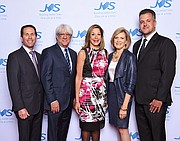 Steven Hirsh, owner of the Cooper Design Space, was honored by JVS Los Angeles, which presented Hirsh with the Founder's Award in recognition of his "visionary leadership."
JVS is a nonprofit, non-sectarian organization that helps people overcome barriers to employment.
Hirsh was among the honorees at a June 7 event at the Beverly Hilton Hotel in Beverly Hills, where Belmont Village Senior Living and AvalonBay Communities were recognized for their support of JVS' HealthWorks and ApartmentWorks programs, which help to "lift people from poverty to employment" through JVS training programs. Both Belmont Senior Living and AvalonBay Communities hire graduates of JVS' training programs.
NBC4 weatherman Fritz Coleman served as master of ceremonies at the June 7 event, where Belmont Village Senior Living president and cofounder Patricia G. Will also received the JVS Corporate Leadership Award.
"Where are all the pairs of hands going to come from to take care of this tsunami of elder adults?" Will asked the crowd. According to Will, an estimated 1 million new workers will be needed to care for the elderly by 2025.
"That's where JVSLA comes in, specifically their HealthWorks program," she said. "At JVSLA their trainees are clients. They provide them with training, coaching, mentoring, grooming, interviewing skills, case management and significant follow-up services. They set their clients, our future employees, up to succeed."
Hirsh received his award from JVS past President Jim Hausberg. Hirsh is JVS' honorary vice president and the founder of Strictly Business, a program that raised $400,000 for JVS LA.
"I thank JVS for this recognition, and I challenge each of us here to see what connectivity we can create that causes a positive impact on our community," Hirsh said. "This is the most critical and challenging time we have lived in, and that makes our actions and our time so very important."
Founded in 1931 as the Jewish Vocational Service, JVS Los Angeles got its start helping people find work during the Great Depression. The organization has more than 30 training and counseling centers in Southern California and has helped nearly 30,000 people "from all faiths and circumstances." JVS works with city, state and government agencies, as well as other nonprofits, to help clients access the resources they need. The organization's Career Services helps people determine their skills and interests, assist in job searching and help match them with appropriate career options or help them transition to a new career. JVS also offers mentoring programs as well as training for entry-level positions in industries such as financial services, healthcare and green technology.