MANUFACTURING
Obituary: Los Angeles Manufacturer Jerry Leigh, 94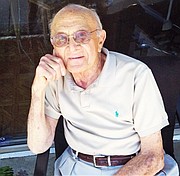 Jerry Leigh, founder of Jerry Leigh of California, died on Feb. 8. He was 94.
Founded in the early 1960s, Jerry Leigh of California grew to be a powerhouse California apparel manufacturer and later a pioneer in the field of licensing.
Today, the family-owned company produces apparel under a wide range of brands and licenses, including Walt Disney Co., Warner Bros. and Dickies Girl. The company manufactures everything from men's to women's to children's apparel that is sold in boutiques as well as major retailers.
The United Kingdom–born Leigh enlisted just shy of his 16th birthday in the Royal Army's 7th Army Division on the eve of World War II. Along with his brigade, known as the Desert Rats because of their training in Egypt, Leigh fought in Italy and later in Berlin at the close of the war. He married his childhood sweetheart, Frances, during the war and later emigrated to Toronto, where Leigh landed a job as a silk cutter for the T. Eaton Co., then Canada's largest department store. At the same time Leigh studied tool patternmaking and grading, enlisting his wife to be his fit model.
The Leighs were planning to return to England when they decided to take a road trip across America—a trip that included a stop in California, where they decided to relocate. Leigh's first job in Los Angeles' garment industry was with California Lingerie, the apparel company owned by the Morse family, who founded Manufacturers Bank and later built the CaliforniaMart (now called the California Market Center). He rose to plant manager before setting out on his own to found Jerry Leigh of California in 1962.
The business operated out of "a tiny little plant on Beverly Boulevard" and relied on selling direct to local stores, according to his son Andrew Leigh, who joined the company in the 1980s and now serves as president and chief executive.
"He hit on a fabric called double knit, which was very, very popular fabric in early '60s," Andrew Leigh said. "He started to build a reputation for himself as this low-cost operator making ready-to-wear, which was just starting to pop in the '60s."
The company's reputation attracted the attention of a buyer who placed an order for what Leigh thought was 300 pieces—a sizable order for the growing business, Andrew Leigh said.
"It turns out it was all dozens," he said. The buyer was from a company called Holly Stores, a women's and children's chain that was shortly acquired by Kmart Stores.
"My dad became one of the very first suppliers to Kmart stores," Andrew Leigh said.
Bill Tenenblatt, owner of Antex Knitting Mills, recalled a meeting with Leigh shortly after Antex opened in 1973.
"We had just started Antex," Tenenblatt said. "We bought eight machines. We probably had two employees and I was the mechanic."
Leigh walked into the downtown Los Angeles mill while Tenenblatt was setting up one of the knitting machines and asked about the fabric he was making. Tenenblatt's polyester jacquard knits turned out to be perfect for a pant style Leigh was selling.
"He was my first customer," Tenenblatt recalled. "That's 45 years ago. He was always a customer probably until a couple of years ago. And it was a great relationship. It was a different era when over 95 percent of what was sold in the U.S. was made in the U.S. It was the beginning of a great supply chain that developed between design and knitting and dyeing and printing."
Over the years, both companies grew. Today, Antex has 450 knitting machines and about 500 employees, while Jerry Leigh of California—now based in Van Nuys, Calif.—employs more than 1,000 employees in facilities around the world.
Tenenblatt said he considers Leigh a mentor.
"He was very precise," he said. "He knew exactly what he wanted, and he told you what he wanted. He was a great teacher. You always knew where you stood with him. That first meeting I will never forget."
Financial and strategic operations consultant Jeff Silver worked with Leigh for more than 20 years as chief financial officer of Jerry Leigh of California. Silver described Leigh as "a self-made man" and "a pure English gentleman."
Described by his son as "a very dapper man," Leigh had a daily work uniform of navy blue jacket, gray slacks, button-down shirt and a tie. "That was his look," Andrew Leigh said.
He treated his colleagues and coworkers with a high degree of respect, Silver said.
"His employees referred to him as "Mr. Leigh" out of respect," he said.
He was also a generous, albeit quiet, supporter of organizations such as the City of Hope and Operation Smile.
"He would say, 'Give with a warm hand,' meaning give when you're alive," Andrew Leigh said.
Kind to all but exacting in business. Leigh "was true to the craft of patternmaking and cutting and sewing and all the technical aspects," Silver said. "He grew up on the side of the business that was the old school of cutting and sewing and patternmaking and engineering. He was really an engineer that became a successful garment manufacturer."
His son described him as "a product guy at heart," who "loved a well-made garment" and "clever construction." Antex's Tenenblatt, agreed, saying Leigh appreciated the entire process from design to production.
"He loved making beautiful garments and [he loved] the process, the design of it, the manufacturing. He loved that part," he said. "The beauty is he grew old enough to see the accomplishment and success of his labor."
Andrew Leigh attributes the company's longevity to his father's knowledge and technical skills. "His philosophy [was] to always look for change and evolve. And watch your overhead," he said. "And that's why we've been around all these years."
In 2012, the company celebrated its 50th year in business as well as the 90th birthday of its founder. The event featured appearances by the USC Trojan Marching Band and Mickey Mouse at the company's Van Nuys headquarters as well as congratulatory commendations from then–Mayor Antonio Villaraigosa and President and Michelle Obama.
Steve Maiman, co-owner of Stony Apparel Corp., remembered calling on Jerry Leigh of California in the 1970s when he was a textile sales representative selling lining fabrics in Los Angeles.
"My boss kept bugging me, 'What about Jerry Leigh?'" Maiman recalled. "He did that for a good reason. Jerry Leigh was a great company. It was truly the foundation of what it's become today. Jerry Leigh will be remembered as a legendary garment guy."
Michael Radochay, a veteran apparel-industry executive in Los Angeles, remembered Leigh as one of the last great gentlemen around. "He was an old school–kind person," he said. "He was a real mensch and just a kind person. He was a producer of polyester knits when they were hot, and he manufactured everything in Los Angeles."
The passing of Jerry Leigh marks the end of an era in California manufacturing, many noted. But California's influence on fashion remains.
Andrew Leigh said his father was proud to include the word "California" in the company name. "There was a mystique about the California garment manufacturers of the '60s and '70s," Andrew Leigh said. "I think it's come back again. I think there's a coolness factor of being made in California and working in California. And my dad got to see that full circle of the garment industry."
Jerry Leigh is survived by his wife, Frances; son Andrew and daughter-in-law Barbara; daughter Susan; and grandchildren Ashleigh, Jessica, Elisabeth and Adam.