TRADE SHOWS
Stitch Levels Out to Blend With Other Shows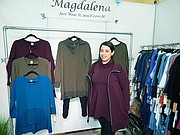 Stitch, the show for women's ready-to-wear fashions, found its groove.
This year, the show was located in one big hall with other shows in the Mandalay Bay Convention Center, which allowed buyers to easily move from Project Womens, Project, Curve, Pool and The Tents.
Last year, exhibitors complained that the shows were located on two different levels, which kept some buyers from moving between floors. "Last year, they had two different floors, and some of the buyers said they couldn't find the Stitch booths," said Dmitry Sviridov, who was showing the Komarov line of high-end dresses that his Strategy L.A. showroom carries. "This year, it is one level."
Ashley Segal, vice president of sales for Los Angeles–based Komarov, said they had been slammed on the first day and worked nonstop. "We had 47 appointments, mostly by people from the West Coast" who were booking orders for the special-occasion dresses, which wholesale for $145, Sviridov said.
Los Angeles contemporary label Johnny Was occupied a huge amount of real estate at the show with a large booth that displayed its embroidered blouses, dresses and tunics. "We have been really busy and doing well," said Linda Shaich, director of sales. "We've not really slowed down."
She said about 90 percent of the buyers her team saw were from specialty stores and then some small chain-store buyers from all over the United States.
Some companies were hedging their bets and exhibiting at two shows at the same time. The misses line Magdalena, which is headquartered in Lancaster, Calif., where it does all its production, was showing at Stitch and Women's Wear In Nevada.
Rina Romero, whose mother started the company in the late 1990s, said she liked the Stitch layout because buyers were able to wander through various shows rather seamlessly. "Because of that, we are getting everything from contemporary buyers to misses buyers," she said.
She felt she was writing more orders this year than last year, but she preferred the way Stitch was organized at the Sands Expo and Convention Center before UBM acquired the show last year from Business Journals Inc. and moved the event to the Mandalay Bay Convention Center.
The former owners used to serve buyers a free lunch, which kept them at the show longer, Romero said. "The show has lost its identity, but it is attracting higher-end buyers who are coming over from Project Womens," she said.