TRADE SHOWS
Co-Working Creative Space to Open This Summer in the California Market Center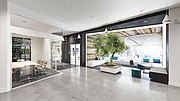 Construction workers are just starting to put up the walls for a new co-working area by IgnitedSpaces, which will take up an entire floor in one of the California Market Center buildings.
Matt Davis, cofounder of IgnitedSpaces, said the communal office space should be ready for occupancy by this July or August and will be geared toward companies in the fashion industry.
Last year, IgnitedSpaces signed a lease with Jamison Services, the CMC owner, for 42,000 square feet of space on the 12th floor of the "B" building. The co-working habitat basically takes up the entire floor of that building, which is one of three in the CMC complex.
"It is a hub for different apparel businesses to come together," Davis said. "We will have offices, working areas, places for events, a bar area, different types of meeting spaces and photo-shoot areas."
People can rent a desk or an office on a temporary basis to quickly grow or shrink their business ventures as needed. People can even book a conference room or presentation room for the day. There will be lounge areas and a kitchen to prepare food.
Davis envisions large apparel companies headquartered outside of Los Angeles being able to have a satellite office at the co-working space or startup companies launching their businesses without having to commit to long-term leases.
Creative office space is one concept that the CMC building owners have been trying to push in recent years. When the first of the CMC's three buildings was opened in 1963, it was the hub for apparel showrooms and market weeks. As the industry has shrunk and other Fashion District buildings have been turned into showrooms, the CMC started leasing space to other industries. Four years ago, Audyssey Laboratories—which develops new technology for improving sound and then licenses the technology to be used in home theaters, automobiles, televisions and other devices—moved onto the seventh floor of the "C" building, initially signing a lease for about 26,000 square feet.
A large communal work spot seems ideal for a building that has space to offer. That is what attracted Matt Davis and his business partner, Lawrence Kao, who opened their first IgnitedSpaces in another Jamison Services–owned building at 7080 Hollywood Blvd. near La Brea Avenue.
When IgnitedSpaces opened in Hollywood in 2014, it occupied the penthouse floor of the 11-story structure. Later, the company expanded to the seventh floor. They now are in the process of occupying the first floor, too.
After getting the Hollywood location up and running, IgnitedSpaces began searching for a second co-working spot. Jamie Lee, who runs the California Market Center and is the daughter of Jamison Services' owner, Dr. David Lee, suggested the California Market Center would be perfect for a co-working space.
When IgnitedSpaces opens this summer, Davis said it may carry a different name than IgnitedSpaces to fit in with the fashion-industry vibe. The CMC location is expected to have a more feminine look than the mid-century design seen at the Hollywood location. "We'll put a strong emphasis on the hospitality aspect and the services," Davis said. "It will feel more like a hotel than an office space."
IgnitedSpaces will be joining a growing number of co-working spaces in downtown Los Angeles, such as The Park, a block from the California Market Center; WeWork; Blankspaces; Industrious; and Cross Campus.