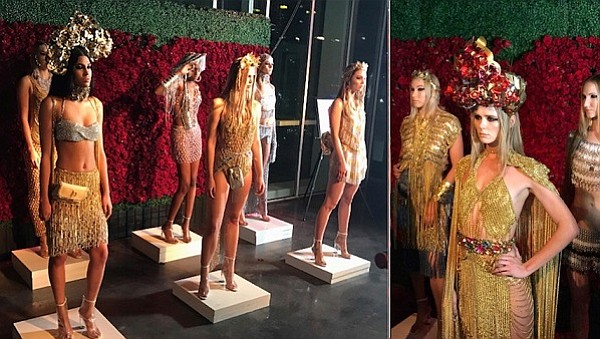 Fashion Party in the Hollywood Skyline for LAFW Opening Reception!
The rooftop of the W Hotel, Hollywood was the scene of the March 16 opening reception for L.A. Fashion Week, one of the producers of Los Angeles Fashion Week events.
LA Fashion Week Executive Producer Arthur Chipman was on hand to greet all the fashion and art lovers.
Designer label Laurel Dewitt presented its current collection of chain metal apparel and accessories. Models adorned in one-of-a-kind head garb and face jewelry looked statuesque while wearing revealing couture metal dresses, crop tops and skirts. The collection looked perfect for the music industry beauties.
The fashion presentations continued with an art-meets-couture event curated by Megan Philips of Sur le Mur Gallery. Philips came up with the idea of having one of her artists—Karen Bystedt—known for her Warhol mixed-media art—collaborate with couturier Sonia Ete' to create one-of-a-kind gowns and jumpsuits. Philips created the hashtag #andylovesfashion for "Andy Warhol loves fashion" for this event. Bystedt took her Warhol art and had Ete' incorporate it into her custom gowns and jumpsuits. The result was innovative and beautiful.
Philips also brought in downtown LA charcoal artist Robert Vargas who did live, quick charcoal rendering of guests in 10-minute sitting sessions.
The event proved to be the perfect mixture of fashion, art, people-watching and a fun party scene!
Artist/photographer Richard Ransier contributed selected photos for this article