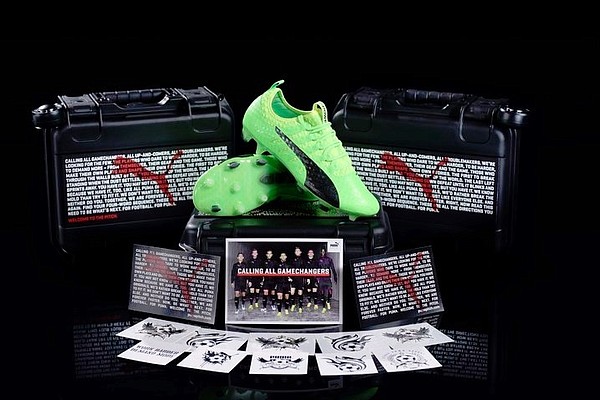 Puma's Locked-Box Challenge
To reward (and challenge) young athletes, athletic footwear and apparel maker Puma thought inside the box.
Earlier this year, members of the company's PumaPitch program for young soccer players received a new pair of Puma shoes in a locked polypropylene box. The players and their teammates had to locate the code to unlock the box.
PumaPitch members were told their new shoes would arrive in "an exclusive package," but they had no idea the box would be padlocked. Each case was imprinted with "an anthem that celebrated Puma's and the player's commitment to work harder, play harder and to demand more from themselves, their gear and the game." The key to unlocking the box was hidden in the anthem.
You can see how it worked in the video below.
Puma and Cramer's Experiential Shoe Packaging
Creating an experience
To create the concept, Puma turned to Boston-based "experience agency" Cramer to help the athletic giant "reimagined what shoe packaging could be."
"From the beginning, we knew we wanted to create exclusive packaging for our first PumaPitch members, but we also wanted to do something totally unexpected – something young athletes would talk about, and remember," says Kellie Ambrose, Puma marketing manager, in a statement. "Through our partnership with Cramer, we invented an exclusive packaging that doubled as an exclusive brand experience."
Pat Martin, Cramer's account director and partner, said Puma was looking for a concept that was "smarter, more relevant, more effective, and more closely aligned with the innovative essence of their brand: Forever Faster," than the typical high-end packaging.
"It was a great story of creativity, strategy, and authenticity cutting through the clutter in a meaningful and effective way," Puma's Ambrose said. "And the fact that the case was something the players would keep for themselves aligned with Puma's commitment to sustainability. All in all, it led to an amazing brand experience, as well as social shares, earned media and a strong introduction for the PumaPitch loyalty program."
When is a box not a box?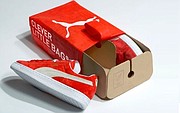 This isn't the first time Puma looked to reinvent the traditional shoebox. In 2010, the company partnered with design company The Fuse Project to create a sustainable and efficient alternative to the typical cardboard shoe box. The result wasn't a box at all, instead it was a combination of a cloth bag and a die-cut sheet of cardboard. The alternative box used 65 percent less cardboard than the standard box. There was no laminate printing and no tissue paper. Further, the new box took up less space, was lighter than a typical box, which saved money in shipping and it was designed with a handle, eliminating the need for a shopping bag.
You can read more about the Puma/Fuse Project shoe box at PSFK.