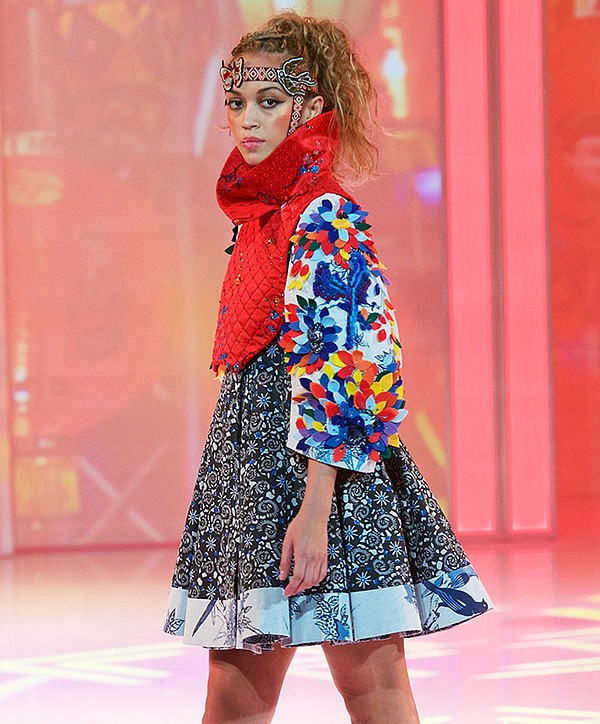 OTIS FASHION SHOW
Hundreds of Guests Attend the Annual Otis College of Art and Design Fund-raiser and Fashion Show
Photo Gallery
Annual Otis College of Art and Design Fund-raiser and Fashion Show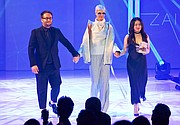 Fashion photos by Kai He, group photos by Lee Salem, courtesy of Otis College of Art and Design
A fashionable collection of 800 people crowded into a large ballroom at the Beverly Hilton for the annual Otis Scholarship Benefit and Fashion Show, which raises money for students and highlights the fashion collections designed by the junior and senior classes of the fashion design department.
The well-dressed crowd of alumni, mentors, supportive parents and students gathered on May 6 for an elaborate event that started out with an acrobatic performance that could have rivaled anything performed by Cirque du Soleil.
Bruce Ferguson, president of Otis College of Art and Design, started out the evening by remembering two fashion greats who were longtime supporters of the school and passed away this year—Anne Cole, a major name in the swimwear industry who mentored hundreds of swimwear design students, and Susan Crank, head of Lunada Bay, a swimwear company in Anaheim, Calif. She was also on Otis' board of trustees.
Metamorphosis was the theme for this year's show. "And there is no better theme for the college this year," Ferguson said.
This year has been a year of transition and transformation for the nearly 100-year-old school, started in 1918 by Los Angeles Times founder Harrison Gray Otis when he donated his house in the Westlake area of Los Angeles as the spot where the first independent professional art school in Southern California was started.
For years, the fashion design department was located at the California Market Center, separated from the college's main campus in Westchester, near the Los Angeles International Airport.
But last year the fashion design department moved to the main campus, which has been upgraded with a new academic building, a residential hall for 200 students and a grassy commons area.
This was also the first year that the founder of the fashion design department, Rosemary Brantley, was not at the show. She retired last year, turning over the department to Jill Zeleznik, now the interim chair.
Over the years, the scholarship dinner has become a sophisticated evening of networking and fashion, much different from the first fashion design department benefit dinner, which consisted of box suppers at the Hard Rock Café and models standing on wooden boxes. "There is no doubt we have become an integral part of the extensive art and design community in Southern California," said Shelley Reid, the benefit committee chair.
Each year, the benefit dinner honors two distinguished individuals in the fashion area. This year, Claudia Cividino, chief executive of Bally Americas, was given the creative leadership award. She was recognized for her mentoring of students and young people. She recently spent a day with students at the Bally store in Beverly Hills talking about the industry and what it is like to be a woman executive in the luxury-brand business.
She also has helped develop a corporate philanthropic program called "Bally Crafting Futures," which supports organizations that address the issues facing children and youth in need, from preschool through high school to vocational training and employment.
Also honored was Daniela Villegas, a jewelry designer born in Mexico and now based in Los Angeles. She was awarded the creative vision award for her jewelry collection of mostly one-of-a-kind intricately crafted pieces. She also has been dedicated to mentoring young talent for some time.
Seen on the runway were the student collections done under the mentorship of several industry experts. The mentors this year were renowned costume designer and two-time Academy Award winner Albert Wolsky, couture designer Chris Chang, and industry leaders such as David Meister, Zaid Affas, Claire Pettibone, Red Carter, and designers John Murrough for Illia, Michelle Watson for Michi, Cory Casella for Jessica Simpson and Marisol Gerona-Bradford for NBCUniversal Brand Development.
This was the second time that Pettibone, a 1989 Otis graduate who has her own self-named bridal label, mentored students. She gave her 14 students the task of creating romantic lingerie using vintage laces and sustainable hemp fabric. "They did a beautiful job," she said.
Pettibone believes in giving back to the students because every student has a lot to learn about the real world of fashion. "There is nothing to replace that mentor experience," she said. "It is an added benefit."