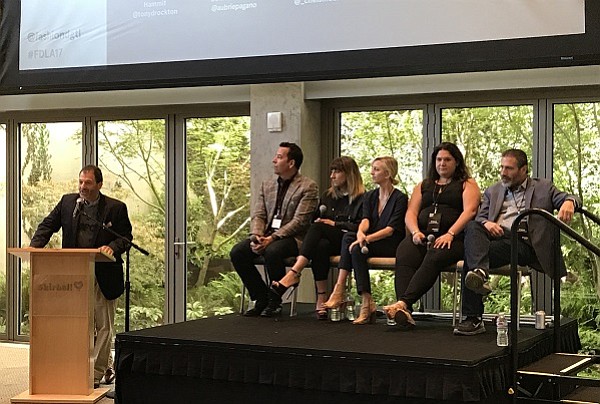 TECHNOLOGY
The Nuances of Profitability vs. Growth Discussed at Fashion Digital Conference
Profitability is a powerful weapon for a company, "to be used thoughtfully and consciously," said Rebecca Kaden, a partner at Howard Shultz's capital venture firm, Maveron.
Kaden spoke at the Fashion Digital LA conference as part of a panel, "Black Is the New Black: The Path to Profitability," with fellow panelists Tony Drockton, chief executive officer of Hammitt; Aubrie Pagano, CEO of Bow and Drape; Chelsea Moore, founder, BOXFOX; and Asher Leids, investor, Tacitus Ventures. Drew Koven, founder and CEO of LDR Ventures, moderated the discussion on profitability from both operations and investment perspectives.
Leids—who is active in angel investing in various consumer, fashion and digital brands—said when looking at a business plan, in terms of profitability and growth, he looks for founders who will know how to control their growth properly so it does not consume them. Leids agreed with Kaden, saying companies should always have profitability in their sightline, and it should always be a controlled decision. Otherwise, they may be consumed by growth, which, as he cited as an example, is what happened with Nasty Gal.
Kaden agreed with his point, adding, "When a company has bad business practices because its teams do not have enough discipline to spend the money well, like in the Nasty Gal situation, it ends up in disaster."
As the conversation evolved, the panelists discussed the importance of people planning and making key hires when growing the business. Drockton said when Hammitt hires, whether it be an outside contractor or employee, they look at how well the person fits in with the company culture. "We don't work with assholes," Drockton said. "If you do not make conscious hires and respect the company culture, it will kill your business."
Kaden, who works with founding teams regularly, was asked by the panel moderator how she approaches hiring strategies with the companies she works with. "We like to keep our teams lean and grow conservatively, but we have also seen that very strategic hires have extremely helped to move the needle for companies," she said. "Going into an investment, the one thing we always look for without fail is, 'How has the founder organized people around them?' We do a lot of data driving around people because we believe in investing in great people."
Entrepreneurs hire help for one of two reasons—either they are so busy, or they find someone who can do a task better than they can, Kaden said. "Most entrepreneurs hire for the former, and it's completely the wrong reason to hire," she said. "Everyone is busy. If you go at it with that lens, you are not going to find the best people. Our best entrepreneurs have the latter lens. The second lens requires self-awareness and the ability to put ego aside."
The three CEOs had the common thread of all being founders of their companies but differed in representing different stages of maturity and growth. Drockton, who has been in business 10 years, reported Hammitt was not profitable for the first five years. During this time, Hammitt "concentrated on the back end of digital from the beginning" and established a strong foundation of relationships with different specialty wholesalers. It is now profitable and growing at a "healthy rate."
Bow and Drape, which has been in business for five years and is venture-backed, is projecting to be profitable for the first time this year. BOXFOX has been in business two and a half years and remains self-funded at this point. Moore and her two cofounders are still establishing themselves while looking to increase margins.
Fashion Digital LA took place at the Skirball Cultural Center on May 4. The all-day event featured a series of retail and technology panel discussions on mobile, social, and influencer marketing, multi-channel marketing attribution, search-engine optimization/search-engine marketing, and customer acquisition and retention.