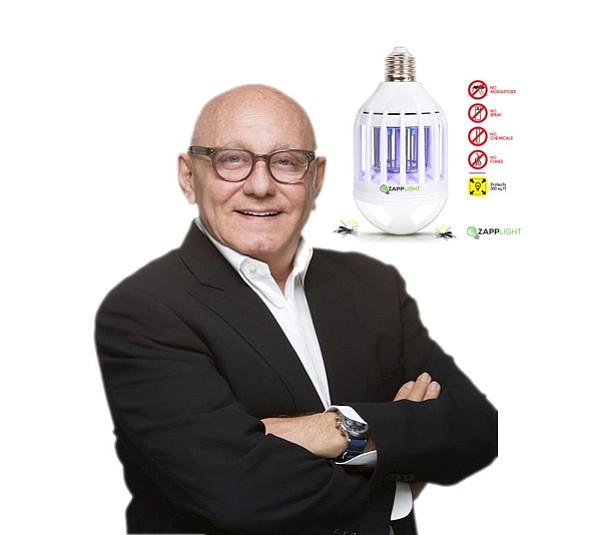 Max Azria Named CEO of Bug-Zapping Light Company
More than one year after being forced out of his Los Angeles clothing company, Max Azria has been named chief executive of ZappLight and its parent company, Clean Concept.
ZappLight is an LED light bulb that is also a bug zapper that kills bugs. It can be used inside the house or outside on the patio.
ZappLight and Clean Concept's U.S. headquarters is Los Angeles, but the company has a fully staffed office in Shanghai as well as a factory in China.
ZappLight distributors include Home Depot, Walmart, Walgreens and Telebrands. The concept for the light is an open-sided bulb that provides neutral white light as well as a blue UV light for attracting bugs. An electrified grid zaps the bugs when they get inside the grids.
A bug-zapping light bulb seems a big departure from Azria's decades as a clothing designer and manufacturer who launched his BCBG Max Azria Group in 1989. After decades of providing the world with contemporary fashion, Azria was pushed aside from his executive post last year as the company with more than $600 million in debt tried to right itself. Marty Staff was named interim chief executive.
BCBG Max Azria Group filed for Chapter 11 bankruptcy protection on Feb. 28 in U.S. Bankruptcy Court in New York. The company has shuttered 120 unprofitable stores in the United States that racked up $10 million in losses during fiscal year 2016. The company still continues to operate 276 stores within stores and 71 BCBG locations.
In March, Lubov Azria, who is married to Max, was fired as the company's chief creative officer. The Azrias sued BCBG, claiming that Lubov was illegally let go from her post, but they lost that dispute.
People who know Azria said they are not surprised to see him embarking on a new endeavor because he is not a person to sit still and is a consummate merchant who draws on his Tunisian and French roots. He is an investor in ZappLight.
"Though fashion and technology are inherently different, they increasingly intersect as both are centered on pushing the boundaries of great design and in inspiring and delighting consumers," Max Azria said in a statement. "I am thrilled to be part of this new and exciting venture to grow ZappLight into a global brand, adopted in homes everywhere to prevent virus-carrying insects."
Entrepreneurs Paul Van Kleef and Robert McFarlane founded Clean Concept and ZappLight in February of 2016. Van Kleef is the company's chief marketing officer, and McFarlane is the company's vice president of sales and marketing