YKK's Remote-Zip Future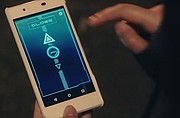 The invention of the zipper—or at least the first attempts to find something more effective than hook-and-eye closures—dates back to the mid-19th century. The modern zipper turned up sometime around 1913. Zipper maker YKK is looking to introduce the next step in zipper development.
The company has released a video demonstrating the zipper of the future—which is currently in development at the Japanese zipper and fastener maker. YKK is working on making automatic zippers that can be controlled by remote using a smartphone.
To demonstrate the concept, the company has released a video, titled "Auto Camping," on its YouTube page. There you can also watch a three-part anime series titled "Fastening Days," which first introduced the concept of an automatic zipper.