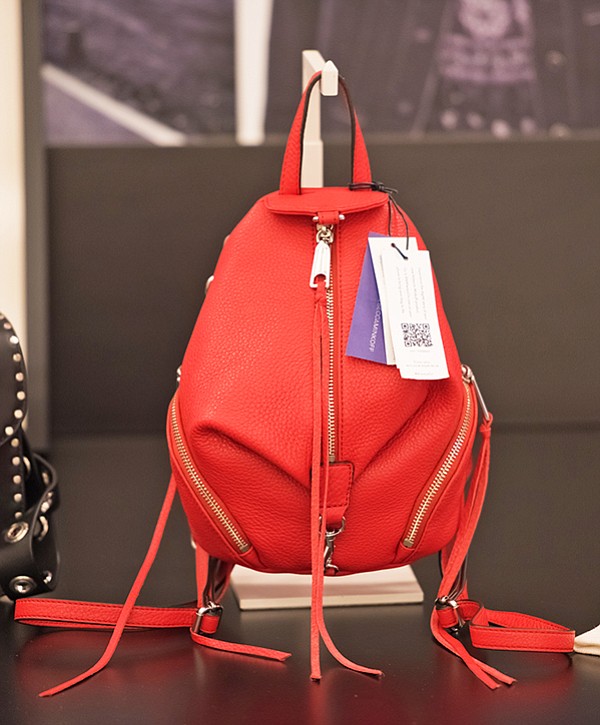 #ALWAYSON
Avery Dennison Helps Rebecca Minkoff Connect to Customers Through the #AlwaysOn Handbag
Rebecca Minkoff's #AlwaysOn handbags feature technology that allows customers to receive exclusive offers, product recommendations and video content. But that's not all the bags can do, according to a recently released study. The smart bags offer "digital emotional intelligence"—or DEQ—which allows consumers to more fully connect with the New York brand.
The #AlwaysOn bags, which recently debuted in stores, feature smart-tag technology developed by label and tag–technology company Avery Dennison. Avery Dennison's Janela solution connects with Evrythng's IoT (Internet of things) cloud platform.
"We've always wanted to enrich our customers' lives and deliver a brand experience that extends beyond the products themselves," said Uri Minkoff, cofounder and chief executive officer of Rebecca Minkoff, in a company statement. "By bringing #AlwaysOn smart features to the bags, we're opening doors to a world of amazing, handpicked experiences we think our customers will love while making it easier than ever for them to access special offers, recommendations and other loyalty rewards."
Avery Dennison and Evrythng worked with the University of Sheffington in the United Kingdom to develop a framework that brands can use to better understand how to engage with their customers. In a report titled "Digital Emotional Intelligence," Phillip Powell, a research fellow at the University's Institute of Economic Analysis of Decision-Making, recommends brands use real-time data gathered from digitally capable consumer products to interact with their customers and understand their emotions and moods.
By monitoring "digital emotions," or physical emotions influenced by interaction with smart products and technology, brands can "predict emotional responses and connect with consumers more empathetically."
"In today's always-on world, brands that use digital technology to connect more emotionally, personally and contextually with consumers, in the moment, will win," said Andy Hobsbawm, cofounder and chief marketing officer for Evrythng. "By connecting physical products and retail environments to the web, brands can unlock new flows of valuable real-time data to transform their customer relationships—not to mention their supply chains and revenue models," he added.
According to Evrythng, there will be more than 800 billion digitally capable consumer products by 2020.
Rather than "passive, unconnected physical objects," connected products are "data-generating, interactive assets" that can "speak directly with consumers and brands," according to the Digital Emotional Intelligence report.
"These interactions and insights can be used by companies to connect more personally with customers by influencing and anticipating their emotions more effectively," the report reads.
Further, the more often consumers interact with these connected items, the "richer and more personalized" the experience becomes.
This takes the experience beyond simply sharing an image of a purchase. Connected products can generate "digital memories of positive product experiences [which] could be replayed to the consumer the next time they shop. Reminding people of the amazing time they had with their previous purchases will overcome human biases and encourage customers to buy more," the report said.
Because fashion is a more "experiential product" than other, more-functional items, the report argues that fashion brands have a greater opportunity "to create more valuable, superior customer experiences based on a more nuanced understanding of digital emotion in the online and offline shopping journey."
This personalized engagement gives brands a way to differentiate themselves from their competitors, the report said.
"At a time when the retail industry is in complete transformation, connected products with a unique digital identity are paving a way for brands to not only easily capture stock visibility but also engage on an emotional level with their consumers. This is key to winning in the marketplace," said Bill Toney, Avery Dennison's vice president, Global RFID market development.