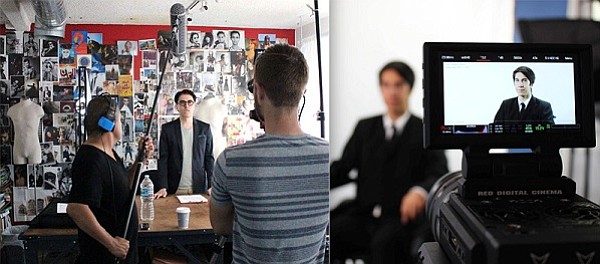 Rock The Wheel in the Menswear Market
Rock The Wheel is a new Los Angeles–based men's start-up company founded by owner Robert Rodriguez and Creative Director Francisco Platt. Years ago, Rodriguez was involved in a serious car accident which left him paralyzed from the chest down. Now finding himself living in a wheelchair in a seated position, off-the-rack clothing became very problematic to wear.

Normal clothing is constructed in ways that are very limiting for wheelchair users. Rodriguez was frustrated when searching for clothing to dress the way he did before the accident. So Rodriguez and Platt got together to create Rock The Wheel, beginning with a launched collection of what they call the "6 essential pieces."
Contributing writer, designer and stylist Estevan Ramos was hired to help create the initial prototype samples and make them come to life.
The six mix-and-match pieces go from work to casual. Each piece has its own unique detail that is perfect for wheelchair users. For example, dress shirts have raglan sleeves for easy arm movement and a crop shirt tail so excess fabric doesn't bunch up around the waist. Jeans and dress pants have higher back waistbands that conform to the body in a seated position. There are no back pockets and pants have a padded bottom to prevent the wearer from getting welts. Pants also come with accessible side pockets for ample storage and easy accessibility.
At the moment, Rodriguez and Platt are still fine tuning their collection. They are working on their online presence through social media platforms such as Facebook, Instagram and Twitter for the brand's campaign. Reaching a worldwide audience is their goal to help build a build studio for production and to reach the ever growing wheelchair population.

RELATED STORIES