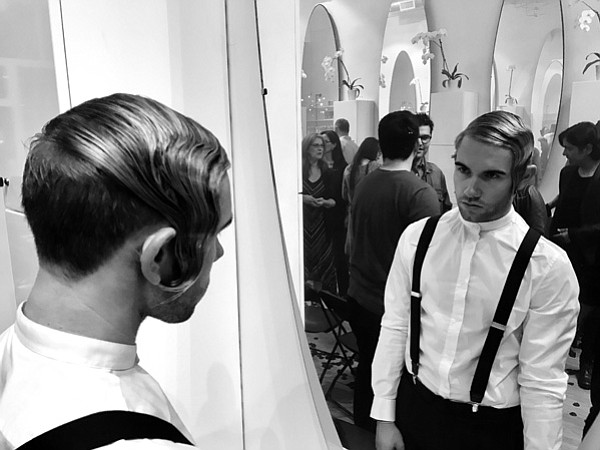 Inspiration: Helmut Newton and 'Le Smoking'
A smoky, black rose petal-scattered runway and nine beautifully coiffed models set the scene for hairstylist Marisa Ramirez's debut soiree at Ramos Carreon Salon (7402 Beverly Blvd. in Los Angeles). Ramirez had recently been assisting celebrity hairstylist and co-owner Philip Carreon before going on her own.
For her soiree, Ramirez took inspiration from famed photographer Helmut Newton's black and white disco-era images and YSL's "Le Smoking" suit. Each model, dressed in all black and styled by Ramirez herself, had individual hairstyles to compliment each look. There was a hand-cut wig, finger-waved men's look, highlighted and colored cuts and styles, all done by Ramirez.
Accessorizing was important for Ramirez to make her statement effective. Fake cigarettes, pearl chokers and necklaces, black-gartered nylons and bustiers were some of the items she chose to make it impactful. The finished looks really conveyed the air of the late '60s, early '70s nightlife scene. The models looked like they stepped out of the fashions pages of a bygone era.