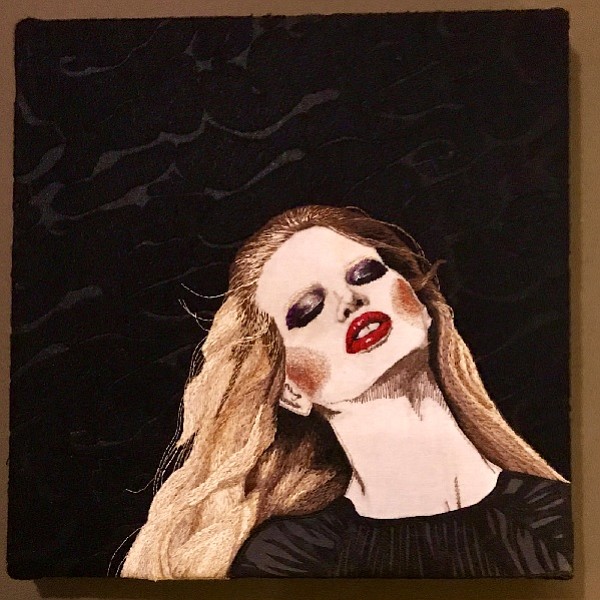 Nano: A Man and his Thread Portraits
"I used to make handmade gifts for my "fancy" friends." —Daniel Hernandez
Daniel "Nano" Hernandez has been diligently creating what he calls "thread portraits" for the past three years while living in London. A transplant from El Paso, Texas, Hernandez studied art at the University of California–Los Angeles and then settled in Los Angeles, where he branched off into the wardrobe/costume world.
Hernandez first started making tattoo-themed applique hoodies, which became a sought-after item. All pieces are done by hand with a collage of fabrics and threads. Hernandez was assisting costume designer Trish Summerville, when she requested he make hoodies she could give as gifts to her nieces and nephews. Eventually, Hernandez's handmade hoodies were sold at Portobello Market in London.
While living in London, Hernandez's former boss, costume designer Arianne Phillips, was in town shooting the film "Kingsman." She saw Hernandez wearing one of his Frida Kahlo T-shirts and asked if he could put the same image on a cushion for Madonna, who is one of her clients. The cushion was on Madonna's Instagram this past weekend. Alessandro Michele, designer for Gucci and a friend of Philips, was producing a magazine called "A Magazine Curated By." Michele asked Philips to make an art piece based on his collection called "Blind For Love" for the magazine. Philips collaborated with Hernandez to create a piece—which features original Gucci fabrics—for the Nov. 16 issue.
On Oct. 28, Hernandez's portraits were featured at an invitation-only event hosted by Jennifer Lehr, owner of Oxford House events, and actress Ann Russo, at Oxford House in the exclusive Los Feliz neighborhood. On display at the event were eighteen pieces by Hernandez, which complimented the estate's interiors. Attendees included costumers and designers; hair and make-up artists; actors and actresses and fans of Hernandez's work. He is in Los Angeles for a limited time, taking commission works at the moment.