MANUFACTURING
LA Manufacturer Launches Nonprofit Mobile Laundry to Aid City's Homeless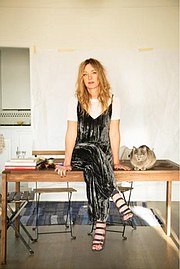 A chance encounter with a homeless woman sent apparel manufacturer Jodie Dolan on a path to connecting her 13-year-old manufacturing business with doing social good. Dolan is the president and founder of the Dolan Group, a company with several brands—including Dolan, 34°N118°W and Guest Editor—that sell atAnthropologie, Nordstrom, Shopbop and boutique retailers. Her latest project is The Laundry Truck LA, a 501(c)(3) nonprofit she founded this month.
The truck will be outfitted with washing machines and dryers as well as a supply of donated clothing and shoes. The Laundry Truck LA will work in tandem with another nonprofit, the Shower of Hope, a mobile shower truck that began operations earlier this year. "We realized we could directly serve people who are invisible yet exist in the very heart of the fashion community in LA," Dolan said. "We will help bring some much-needed services to the community and help restore dignity to our neighbors."
Dolan has begun raising funds for the nonprofit with the goal of purchasing a mobile laundry trailer and funding operations for one year.
The goal is to raise $150,000, which will include $75,000 for the laundry truck and $75,000 for operations for the first year. As part of their research, Dolan and her team have found several companies in the U.S. that can build the truck. They're currently reviewing several proposals.
She plans to have the laundry truck running by early 2018. "My hope is we can encourage the fashion community as a whole to also jump in and get involved so we can all take better care of our community," Dolan said.
When Dolan first approached attorney Jeffrey H. Kapor, a partner with the Los Angeles law firm Buchalter, with the idea, the longtime apparel attorney thought it was a unique idea with a direct connection to the apparel industry.
"The idea of putting together a truck that has washers and dryers on it that gives people the opportunity to clean their clothes is just a terrific idea," he said. "And here this is in our backyard. It touches our community and the businesspeople [we] work with. It just seems like why didn't anybody think of this before?"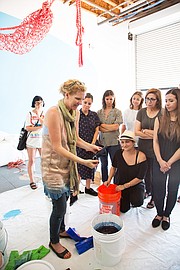 Kapor's firm is working pro bono to set up a nonprofit corporation and file all the paperwork with the California Secretary of State and the Internal Revenue Service. A board of directors has been named. The next step is to set up an advisory group and begin fund-raising.
"What a unique opportunity for people in the apparel industry to be able to give small dollar amounts to try to help the neighborhood," Kapor said. "We'll raise some money for the first truck. If the fund-raising goes well, perhaps we can get another truck. There are a lot of homeless people and there are a lot of clothes that need to be washed. Maybe this will become a model for other communities." Dolan's accounting firm, Cohn Handler, is also working pro bono on the effort.
"We're facing a crisis right now," said Mel Tillekeratne, founder of the Monday Night Mission and the Shower of Hope. "We have officially 58,000 in this county who are homeless. Unofficially, we think it's upwards of 120,000 because there are so many people who are sleeping in their cars that are not counted in the homeless census. This is the crisis of our time. We can get involved now, when we can fix this. We have to make sure our generation is the one that doesn't let it pass over to the next one." Tillekeratne founded the Monday Night Mission nearly seven years ago and launched the Shower of Hope in March. Living without access to showers or clean clothing can be very isolating, he said.
"[If] I'm in the gym and I've got all my sweat on me, when I get into the elevator I'm very conscious of myself and I try not to talk to people. It's embarrassing," Tillekeratne said. "For a person that doesn't have regular access to showers, this is their everyday life. And they isolate themselves because of not having access to cleanliness." Shower of Hope currently operates a truck and shower trailer that makes stops in two locations in Southern California—All Saints' Episcopal Church in Highland Park and Holy Family Church in South Pasadena.
"We offer, on average, 30 to 40 showers on Saturday mornings," Tillekeratne said. "It's really important that people have access to showers, and it's also equally important that once they have access to showers they have access to clean clothes so they don't have to worry about the smell coming from those clothes."
Craft and charity
To help raise money and awareness for The Laundry Truck LA, Dolan has launched Dolan Handmade, a monthly series of craft events at her 26,000-square-foot factory in Vernon, Calif. Dolan is working with Mimi Haddon, an M.F.A. candidate in fiber art at California State University, Long Beach who teaches textile art and natural dyeing classes at the Craft & Folk Art Museum in Los Angeles.
Two of Haddon's fiber-art pieces were recently installed in the lunchroom at Dolan Group. The oversized macramé pieces, made from brightly colored knit fabric from Dolan's surplus fabric inventory, are suspended from the ceiling.
Haddon, who was named Dolan Group's artist in residence, has led classes in natural dyeing and macramé at the apparel factory. The next workshop, set for Sept. 28, will focus on marble dyeing on Turkish towels. Future events will include block printing, sashiko (Japanese embroidery) and eco-dyeing using pressed flowers on silk. Tickets for Dolan Handmade are $45, which includes supplies, and all proceeds benefit The Laundry Truck LA.
The Dolan Group will also donate a portion of sales from its direct-to-consumer website for the Dolan brand, shopdolan.com, which will launch on Oct. 1. A portion of sales from Dolan clothing sold at retailers will also fund The Laundry Truck.
Path to The Laundry Truck
In recent years, Dolan has been looking for ways to make her business more environmentally and socially responsible. She researched renewable alternatives to the ubiquitous poly bags used to ship garments to retailers. She looked into recycling resources for all the excess fabric scraps left over after cutting. Her daily commute took her through Skid Row in downtown Los Angeles, located right next door to LA's Fashion District. She began listening to podcasts about homelessness, looking for ways that she could help. "But I didn't know where to start," she said.
Then Dolan stumbled—literally—across a homeless woman who had ducked into a mid-city business to get out of the cold. The woman ran off when Dolan screamed, but the apparel manufacturer went after her to try to give her money to apologize for frightening her.
Dolan said she knew simply giving one person money wasn't the right response. A week or two later, she overheard someone talking about the Monday Night Mission and its group of volunteers who feed people on Skid Row every night of the week. Dolan began volunteering with the group, making sandwiches and handing them out in front of the Midnight Mission on South San Pedro Street in downtown Los Angeles. The first time, Dolan went alone. Soon she was going weekly and many coworkers were joining her.
"Jodie was walking out of the office one night and said, 'I'm going down to Skid Row. Do you want to come?'" said Christine Moore, who works in product development for Dolan. "I'd never known anyone who would go to Skid Row. It was nothing at all what I envisioned. I thought it would be like a soup kitchen. It was an eyeopener."
Before handing out food, volunteers are given frank advice about staying safe while volunteering on Skid Row.
"I almost turned around and left after the safety briefing. I thought, 'What did I get myself into?'" Moore said. "But I trust Jodie. I'm so glad I stayed. This group is organized. It's a well-ordered machine."
Dolan and her employees have volunteered their time for other organizations as well. A group joined a march in support of Measure HHH, the Homelessness Reduction and Prevention Housing, and Facilities Bond Issue initiative that was approved by Los Angeles voters in November.
The entire Dolan team volunteered at the Downtown Women's Center, working in the kitchen at the main campus on San Pedro Street and in the DWC's retail store, MADE by DWC, on Los Angeles Street.
It took longer for Kate Anylan, Dolan's brand director, to join the group at the Monday Night Mission.
"I'm happy to help people and contribute, but I was scared to go the first time," Anylan said. "While we were making sandwiches I was thinking I'm not really sure what will happen next." By the end of the night, Anylan's impression had changed. "When I left I had so much energy and wanted to talk about it," she said.
Recently, Anylan returned to the Monday Night Mission with 100 hard-boiled eggs, which turned out to be a big hit. Word got out on Skid Row, and more people began arriving, asking if there were more.
Dolan said the turnout for the Monday Night Mission ranges from about a dozen volunteers to upwards of 40. Many are college students. And most heard about the organization the way Dolan did—through word of mouth.
"It's very cool how people hear about it," Anylan said. "And they make sure to squeeze it into their schedule."
Moore said there's a feeling of commitment—not just among the regular volunteers but among the Skid Row residents.
"I feel like I have friends down there," she said. "It warms the heart to see these people as people every week and know their names. You see past the problems. It makes it more meaningful."
Dolan designer Greta Gunther was another early volunteer at the Monday Night Mission. The first time she went, she was asked to greet people as they arrived.
"My first experience was physical contact," Gunther said. "I looked them in the eye and shook their hand and interacted with them. I wasn't expecting the intensity. But Jodie made it so casual sounding. It's amazing that our boss was involved."
That direct contact with the people living on the streets is what keeps Dolan coming back.
"That's why Skid Row is so powerful," she said. "You're handing someone a sandwich and shaking their hand and talking to them. You have a little picture of what's going on. You see all of it. You're getting out of your world."
For more information about The Laundry Truck LA, fund-raising efforts and the Dolan Handmade workshops, visit shopdolan.com.
Photos by Shelly Strazis.