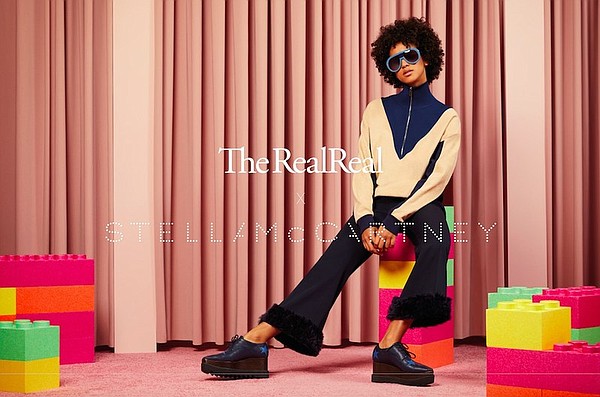 FASHION
Luxe Sustainability: The RealReal and Stella McCartney Campaign for Earth Day
Building upon its existing partnership, luxury consignment company The RealReal collaborated with Stella McCartney to create its new advertising campaign "the Future of Fashion is Circular," in observance of Earth Day, which falls on April 22. As a member of the Ellen MacArthur Foundation's prestigious CE100 USA, The RealReal's efforts to keep products in use through extending their life cycles is a natural pairing with Stella McCartney's longstanding dedication to sustainable and ethical practices.
"This campaign is about raising the awareness on a circular approach to fashion," said Stella McCartney in a statement. "We alongside The ReaReal are making the commitment now and we can only hope that others will follow."
The goal of the campaign is to promote a manufacturing and consumption cycle of "make well, buy well, resell," which relies on designers to create quality goods and shoppers to resell these items to other consumers when they are no longer wanted, rather than send them to a landfill.
"We want people to think about buying well so their items can be circulated numerous times in the economy," said Julie Wainwright, who is the The RealReal founder and chief executive officer, in a statement. "We're proud to stand with a brand that has such integrity like Stella McCartney and to promote the circular economy and its impact on sustainability."
In addition to fresh campaigns on television, radio and social media, the initiative includes incentives, such as gifting customers $100 to shop at Stella McCartney upon consignment of any of the brand's goods on The RealReal. Associates who work in Stella McCartney's stores located across the United States will also encourage customers to eventually consign their pieces. There is also a Stella McCartney charity sale hosted by The RealReal, featuring sustainable pieces from the designer's archives, with a portion of the revenue generated benefiting Thames21, an organization that protects London's waterways.