FASHION
Costume Designer Mark Bridges Took on Detective-Like Qualities to Develop 'Phantom Thread' Costumes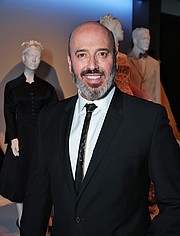 Costume designer Mark Bridges said one of his greatest challenges in creating the styles for the "Phantom Thread" movie was the fact that it was shot in London and not Los Angeles.
"We felt displaced," said the designer, who attended the Feb. 3 gala at the Fashion Institute of Design & Merchandising unveiling the school's exhibit of costumes from 26 films released last year in the United States. Bridges, who won an Oscar in 2012 for his costumes for "The Artist," was nominated for another Academy Award this year for his work in "Phantom Thread."
"We are so spoiled in Los Angeles. We have all these incredible rental houses and fabric stores. In London, they have small fabric stores because, like New York, they don't have the square footage to keep all the fabrics in one place," he said. "We would get these small swatches and then they would say, 'We can send the fabric down from the north [of England] in a few days.'"
His other challenge was that "The Crown," the Netflix series about the reign of Queen Elizabeth II, was filming in London at the same time and using up many of the 1950s-era costumes that might have been available for "Phantom Thread," the tale of a designer in London's couture world of the 1950s.
"So finding original stuff, we had to travel far and wide to try to get real original clothing pieces for our background and just for inspiration," he said, noting that he and his team traveled to Paris and Rome to do some of their research.
Bridges set up his own costume shop with a cutter and seamstresses to create costumes that had couture quality. "We had to have things made to couture quality in a truncated time frame, but production was very understanding and provided me with enough seamstresses to get the job done."
One of his most original finds was a piece of 17th-century Flemish linen lace bought from an antiques dealer for one of the dresses seen in the film. "The lace had a great graphic quality to it," he said. "It was not superfine lace, but it had a bold feeling to it."