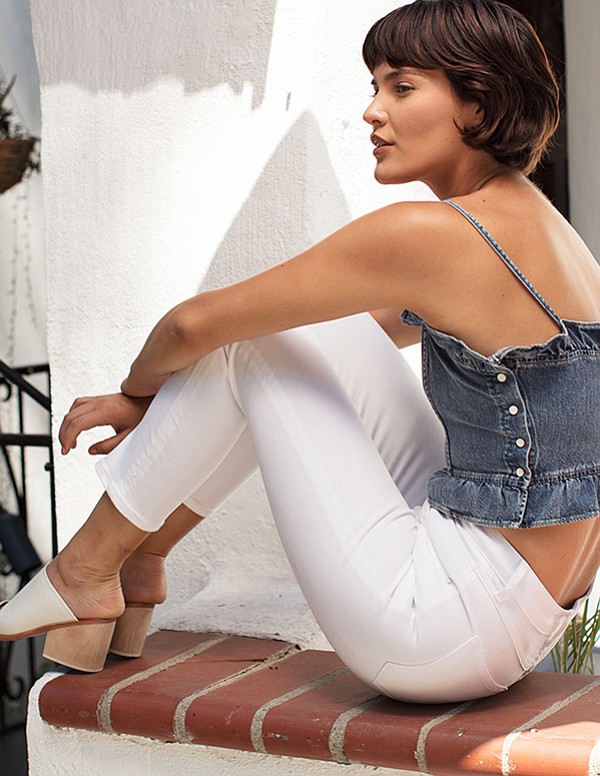 FATHER'S DAUGHTER
A Father-Daughter Team Launches a Los Angeles Denim Line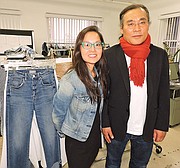 The constant whir of sewing machines and the drumbeat of downtown LA traffic echo through the second-story design studio occupied by Su Kim and her father, Jim Kim.
Mannequins attired in some of the latest creations crafted by designer Su Kim dot the vast space while racks filled with patterns constructed by patternmaker Jim Kim are strategically placed around the design studio.
In the back of the studio, three garment workers are hunched over sewing machines, running fabric through needles that race at a non-stop pace to create premium blue jeans for Father's Daughter—a label created by the father-daughter team.
Father's Daughter is a return to handcrafted garments that are part of the slow-fashion movement looking for well-made items produced domestically. The denim label was started two years ago with the first collection launching early last year.
"We are doing small-batch production and looking at every piece from the time it comes off the machines," the young designer said. "We are doing all the washes here in Los Angeles."
Kim and her father are sticking to the tried-and-true formula for quality blue jeans that transformed Los Angeles into the center for premium-denim jeans at the turn of the century when brands such as True Religion, 7 For All Mankind and J Brand marched onto the fashion scene.
At that time, these pricy brands, which commanded up to $300 for a pair of pants, were completely manufactured in Los Angeles, keeping denim factories and wash houses on a busy production schedule. But now that big corporations and private-equity firms have taken over these name brands, much of that high-end blue-jeans production has gone to Mexico and other overseas areas in search of lower costs.
"Jeans quality is going downhill," said Su Kim. "But people want 'Made in LA' denim, and there will always be a demand for that."
The Kim family has a long history of working in the Los Angeles denim industry. Jim Kim came to the United States in 1992 as a patternmaker after he and his wife, Jong, ran a custom-made dress shop in Seoul, South Korea.
For years, Jim Kim was a much-sought-after patternmaker who worked for such brands as J Brand, Vince, Taverniti So, Antik Denim, Azteca Production, Mother, Calvin Klein, Tommy Hilfiger, Tom Ford, Alexander Wang, AG jeans and currently Redone. Five years ago, he opened his own patternmaking studio on Ninth Street in the hub of the Fashion District in downtown Los Angeles.
With his years in denim, it was only natural that his daughter would follow him into the business. Su Kim graduated from the University of California, Davis, in 2008 and then enrolled in Esmod, a private French fashion school in Paris where she studied for two years. "I grew up with my father doing denim, so I was like the daughter whose father was a baker and I grew up with pastries," the younger Kim said. "When I would go back to Davis from visiting my parents, I would have all these old samples of Taverniti So."
As soon as she returned to the United States, the budding designer went to work at AG jeans, a premium brand made by Koos Manufacturing, a major denim factory in South Gate, Calif.
Kim started out as an assistant designer, then an associate designer and moved into various jobs during her six years there. When Kim's mentor, Masaaki Matsubara, left to become the creative director for J Brand, Kim soon left to pursue her own line.
"I told my dad I was thinking of starting my own label and could he create a couple of patterns for me?" she recalled.
From there, a new company was formed. The first collection shipped for Spring 2017. The inaugural collection was filled with novelty looks that took a different view at denim. "We have basic denim but layered with more personality," the designer said.
In the collection, which retails for $180 to $250, there are various silhouettes including skinny jeans, high-rise jeans, ripped jeans, cropped denim with wide legs and denim with rough edges and impeccable washes. The brand now goes beyond blue jeans to create denim jumpsuits; denim tops with a girly, girly look; dresses; and knit tops.
The typical Father's Daughter customer is a creative woman in her 30s and 40s who doesn't shop department stores or online but frequents small boutiques that are into well-crafted, small-batch products with a unique quality. "There is this idea of slow fashion that has created this product of opportunity for us," Su Kim said. "We are the alternative high-quality denim brand made by people who have been in the denim industry for a long time."
Anthropologie ordered a few styles during that first season, and Shopbop carried it on its e-commerce site.
Myrtle, an independent Los Angeles boutique that focuses on women's apparel made by female designers, was the first store to carry the Father's Daughter label, Su Kim said.
Now, several small boutiques carry the brand. Cristov in El Segundo, Calif., near Los Angeles, stocks the brand. "I love the brand," said store owner Christina Ristovski, who tries to carry only Los Angeles labels. "I love the way they are made. The fabrics are great, and they are stretchy. I feel if you are the girl in between sizes, which is common, it is the perfect thing. When you wash them, they are not easily damaged. They don't stretch out."
For Spring 2018, Free People ordered two styles, online website Revolve will be carrying the line, and several small boutiques around the country will continue to hang the label on their racks. The brand is represented by the Hasson Costa showroom in The New Mart.
Right now, the brand is producing about 400 blue jeans a month, about double what it did last year, but Jim Kim said he can make up to 1,500 pair of jeans a month before he has to find an outside contractor.
Down the road, Su Kim would like to branch out to select areas of department stores and be in more doors. "The clothes speak for themselves," she said.