TRADE SHOWS
Color and Fabric Trends Highlight Première Vision Textile Show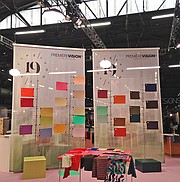 NEW YORK—Color trends and the push for local manufacturing were two of the main themes at the 36th edition of the Première Vision New York international textile show.
When visitors entered the exhibit, held Jan. 16–17 at Pier 54 in Manhattan, they were greeted by a color display that showed PVNY's official color range for the Spring/Summer 2019 season.
The range of 26 hues—a selection of greens, offset by deep blues, vivid pinks and burnt orange tones—highlighted the offerings.
"Première Vision is not only a show organizer," said Thierry Langlais, vice president of operations. "Twice a year we meet with the best weavers and yarn spinners, and we put together the color range that most of our exhibitors will be influenced by in their collections."
The process of creating a color range for each season is not new at Première Vision, but it has moved more to the front with the show's organizers sharing information about its inner workings.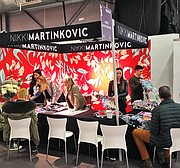 Associate Fashion Director Julie Greux explained that this color-trend process starts months before the show, with Première Vision's team meeting with its partners from around the world to discuss color ideas. Inspiration, she says, "is a mix of everything. It could come from the street but also from art exhibitions."
Based on these discussions, the season's color range is created, then shared with Première Vision's exhibitors as they plan their offerings, leading to a unified trend story throughout the show.
At the "Trend Tasting" seminars, which included a session on the highlights for the season, the story was expressed in a half-dozen different themes or moods for Spring/Summer 2019 fabrics. The "Freshness and Innocence" theme brought the color range's warm pink and orange hues to crisp, sunny stripes balanced by cool blue tones.
The "Creamy Suppleness" theme focused on texture with fabrics in a variety of colors, from grass green to rich reddish orange to ecru, displaying a soft, silky finish.
"Hybrid Nature" showcased subtly whimsical animal motifs and graphic florals. The overall feeling of these themes explored was one of sunny warmth and playful sophistication.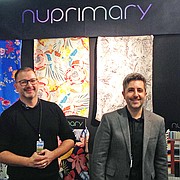 Graphic florals made a bold statement on the exhibition floor with several vendors showcasing fabrics with vibrant blooms and blossoms. "Colors are a bit brighter and lighter rather than being saturated. We're also exploring more-artistic strokes, things that are more painterly," said Ray Bono, cofounder of Nuprimary, a Brooklyn, N.Y–based textile design studio.
Bono also spoke to the revival of local production in New York, which was again a focal point at the show. Seven companies based in New York were showcased at Première Vision through its partnership with the Council of Fashion Designers of America's Fashion Manufacturing Initiative. "It's about going back to smaller teams and smaller companies that are willing to do the work and create things firsthand," Bono said.
Guglielmo Olearo, Première Vision's international exhibitions director, echoed this view of local manufacturing. "It would be a niche market, for limited volume, playing on proximity."
General Manager Gilles Lasbordes added that local manufacturers can have "closer collaborations with creative people to develop products in a different way—maybe more accurate. The time to market could be shorter instead of manufacturing far away."
The local manufacturers on display with the CFDA reflected this trend. They included the pattern service Werkstatt, the sample development and production house David Wolfson and Associates, the custom fabric flower maker M&S Schmalberg (which has been in business in New York City for more than a century) and New York Embroidery Studio—all specialty operations that capitalize on their location in New York's design center.
David Llewellyn, vice president of knitting-machine manufacturer Shima Seiki USA, said that new technology is playing a role in local manufacturing. He was displaying a 3-D knitting machine that could knit an entire sweater in one piece. "The sleeves, the body, everything—there's no sewing at all," he said. "The idea is reducing labor costs and reducing material waste."
While most of these machines are sold in Asia, Llewellyn said, "We see a trend now for domestic [sales], which is positive. It's about reducing inventory by reducing orders in Asia. It still costs more to manufacture in the U.S., but you can do a quick-trend order. The retailer can reduce orders overseas and fulfill shortages domestically, so it's a cost savings in the long run."