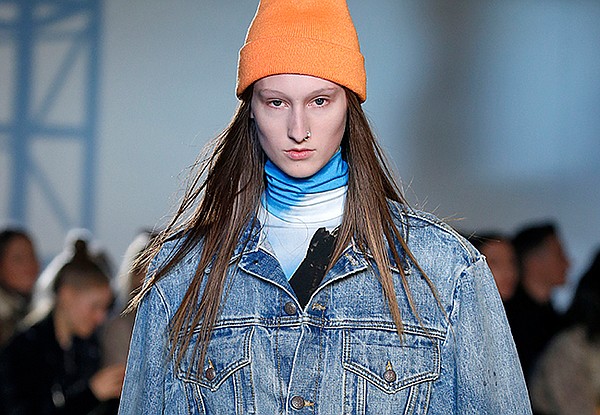 FALL '19 DENIM TRENDS
Top 10 Denim Trends for Fall/Winter '19
From denimheads who wear jeans every day (and never wash them) to those who carefully curate and dry-clean their crisp indigo duds, denim somehow retains the ability to work for every style and encompass every attitude.
For Fall '19, silhouettes get roomier in general, with higher waists, wider legs and slouchier fits. Laundered effects range from mid-wash blues to blackened fades, with acid wash making a splashy return to the forefront of fashion. Here are denim trends for the season, plus a color palette for patchwork blues and new, rusted shades from Sharon Graubard, founder and creative director at MintModa, an online trend service.
True Blues
Bright and clean indigo washes freshen up denim for Fall. In contrast to the faded effects and placed rips that have stolen the denim focus in past seasons, this clean overall finish provides a more "put-together" look. The even-surfaced indigo works with all items and silhouettes.
Looking especially new are denim jogging bottoms, head-to-toe sets and sleek boiler suits in this classic bluebell color. Reinforced trapunto details at the knee, quilted effects and high-contrast stitching will provide more interest. Seams can be slightly abraded for a softened look.
Dry Darks
Dark hues and clean surfaces look especially right for Fall, perhaps a reflection of the current interest in wear-it-to-work apparel. Unbroken deep color and lustrous finishes call out for precise shapes and minimal embellishment. Any tailored piece becomes more approachable, wearable and versatile when cut from this premium denim. Think of natty suits, classic straight-leg jeans or an easy yet elegant duster coat.
Sharp pocket flaps outlined with contrast stitching will emphasize raw denim's neat and polished nature. When denim is this clean, every detail counts.
On Acid
Acid-washed jeans are back with a vengeance, seen on the most forward runways. Worn with a dose of irony, the speckled surfaces look surprisingly appealing. Tapered-leg, elastic-waist jeans are a literal throwback interpretation, but there are also new versions such as streaky colors or rusted, over-dyed effects. The vintage-y marbled denim is also used for trucker jackets, bombers, shearling-lined coats and work shirts. While authentic acid-washed looks are key, there are also "faux" effects achieved with painted surfaces, digital printing and blotchy "bleachers" for both men and women.
Broken-in Blacks
Worn-in denim gets an update with blackened shades. These graphite tones work best for streetwear looks but can go classic or contemporary when the silhouette is polished. Casual slate-colored jeans get an update with hip-yoke seams and a waistband that sits at the natural waist. An ankle-skimming skirt in lightweight, laundered denim is made even more relaxed by an elastic waist, which is a key detail for the season. As for denim ensembling, charcoal denim is cut into a fur-trimmed trucker-blazer hybrid and paired with skinny jeans ripped at the knees, creating an appealing juxtaposition of refined and rough.
Artful Patchwork
Color blocking with tonal indigos started a few seasons ago but continues to be a driving force. Patchworks can be as intricate as a crazy quilt or as simple as a single mended square. Pieced, patched, paneled or blocked—any technique will do. Cargo pants, a key item for Fall and into Spring, are made more eye-catching with contrasting pockets. Non-denim materials can be part of the mix, especially plaids, menswear tweeds and rich brocades. For extra visual appeal, there are collages of bandanna prints, simple florals and tiny dots, all in shades of denim blue.
The Big Easy
The skinny-leg jean is finally waning, giving way to a myriad of easy-to-wear bottoms. The newest jeans are roomy and feature wide, stovepipe legs or billowy extra-large silhouettes. Ultra-long lengths emphasize the ample shapes, with cuffs that range from a single break over the instep to extravagant lengths that puddle over the shoe and drag on the ground. The cut of the leg can be straight, flared or pegged. These relaxed gender-free styles work best in classic washes including light all-over bleaches, mid-tone blues or dark and raw qualities.
The Work Shirt
Work shirts are versatile contemporary options that function on their own as tops or can be styled as lightweight jackets. Point collars and chest pockets get bigger for Fall, becoming bold statements that update this time-honored item. Silhouettes range from hip-skimming military styles to finger tip–length tunics. Closures include snaps, button-fronts or placketed popover styles, and sleeves can end anywhere from below the elbow to knuckle-dusting. Another update is color; aside from indigo blues, there are olives, khakis, reds and earthy clay tones. Patches, embroideries, printed areas or logos offer a faux DIY effect, adding personalized appeal.
The Reshaped Trucker
The trucker jacket, like jeans themselves, can be endlessly reinvented and still retain its iconic identity. For next Fall, truckers are oversized, cropped, drop-shouldered or hourglass shaped. Because this staple wardrobe piece is a favorite in all markets, offering it in a variety of fits is essential. There are interesting proportion plays, like a cropped jacket with widened sleeves or a super-elongated version with a narrow band hem. Colors for truckers uptrend, like true red or a fresh green. When the silhouette is so identified with jeanswear, there is leeway in the fabric. Wool flannel, leather or suede, lush corduroy or puffy quilts all bring a fresh point of view to next Fall's trucker.
Heavy Metal
Studs are the denim embellishment of choice for Fall. Placed metal nailheads show up in new pattern placements on high waistbands, shoulders, yokes, legs or sleeves. The metal decorations can be flat, semi-round or pointy; finishes are silver, gold or brass and can be set with a stone or pearl. All types are freely mixed for an ornamental effect or used sparingly for a more restrained aesthetic. Just a touch of metal detailing will give denim an upgrade.
Indigo & Beyond
Next Fall's denim palette celebrates indigo in all its beloved variations. There are sharp and clear navy blues, dusky slates, graphite-colored fades and smoky blue-grays. True blues, conjuring '50s rockabillies, is key for classic looks as well as fashionable sets and new baggy dungarees. The lighter tones make a comeback for pale, laundered looks and acid-washed speckles. All the blues work in indigo rainbows for patchworked effects. As for alternatives to blue, there are warm red-clay tones, olive greens and new caramel-colored browns, used for over-dyes, streaky bleaches, colored wefts and sturdy canvases.