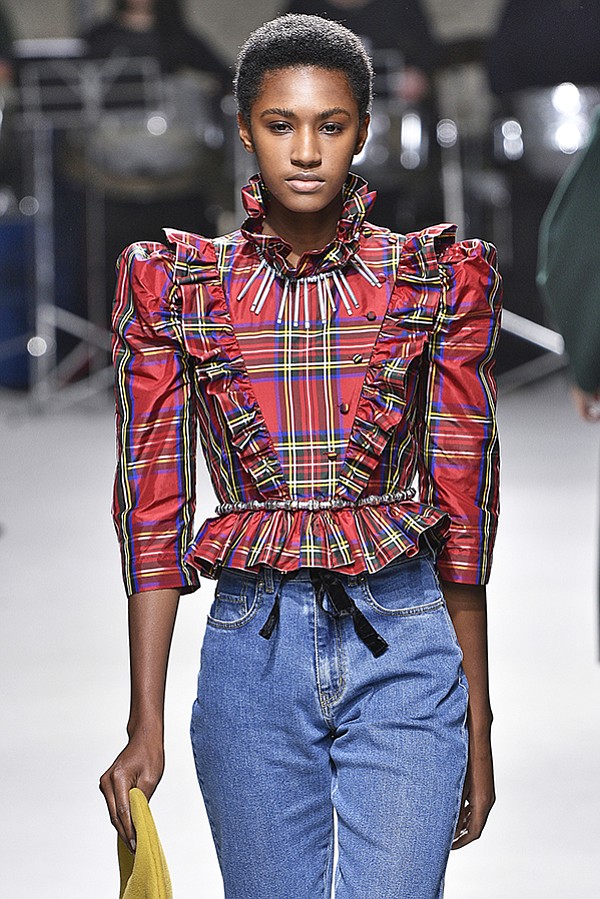 TOP 10 TRENDS IN 2019
Top 10 Items for Juniors Fall/Winter '19 Forecast
The juniors customer, always ready for something fresh yet wearable, will have plenty of new items to choose from for next fall. Below are the top 10 picks from MintModa, an innovative online subscription trend service led by noted forecaster Sharon Graubard.
The Exploded-Image Pullover
Graphics for tees are no longer confined to a small mid-chest motif or a
subtle back placement. The newest imagery for cut-and-sew knits is
magnified and printed over every inch of a garment, from neckline to hem
and from shoulder to banded-trim wrist.
Wearers can express themselves and their passions with imagery ranging from
endangered-species photo prints to graffiti slogans. Digitally printed
grounds imitate watercolor blurs, tie-dye or marbleized "notebook"
textures. Some designers show mixed effects, as in a pop art–printed
sleeve. Sweatshirt silhouettes are key and often extra large.
The Performance Base Layer
For a more body-con approach to cut-and-sew, juniors can opt for a
performance knit. These are in lightweight, stretchy jerseys, smooth or
micro-ribbed and in a blend of fibers, including nylon, polyester, bamboo
and elastane. These fabrics may have value-added capabilities such as
moisture-wicking or anti-microbial properties.
Visible seams or contrast stitching emphasize a contoured fit, and crew or
band necklines key into the new covered-up aesthetic. Placed chest stripes,
zipped turtlenecks, branding appliqués and graphic color blocking add more
interest. Many of these new knits are longer, perfect for tucking into
pants or wearing over a soft skirt.
The Big Cardi
Sweater knits are always a must-have for fall. Some of the newest sweaters
are cardigans—especially oversized, slouchy ones. Juniors can wear these
over everything from jeans-and-tee ensembles to flowered dresses or lacy
slips, evoking a kind of grunge-era Courtney Love nonchalant glam.
Fluffy mohair yarns provide a textural update. A wide, floppy collar like
the ones Miuccia Prada did for her Miu Miu collection brings freshness to
the silhouette. Other desirable design details are button-off sleeves,
placed intarsia patterns and highly dimensional cables. Extra-long sleeves
emphasize the too-big fit.
The Modern Bustier
The bustier evolves from undergarment to standalone top to layering piece,
worn under or over other garments. For next fall, look for techno-sport
interpretations such as a strapless nylon bustier with zip pockets, making
it a hands-free option for street- or clubwear. There are also shiny patent
looks and satin versions with boning or underwires. All are meant to peek
out from under an open shirt or be worn on top of a more oversized piece,
bringing a bit of structure to fluid silhouettes. Closures include tech
zips, metal lingerie hooks, corset lacing and Velcro.
The Heroine Blouse
Female power is expressed with romantic blouses. Many of these have
Victorian overtones, bringing a bit of femininity to juniors ensembles,
which often include androgynous items such as baggy jeans, rave pants or
tech cargos.
Details make the difference: There are high necks, lace insets and placed
gathers at the shoulders that give way to special sleeves. Peplum effects
look new again, often defined with smocking or grosgrain-ribbon trim. Tiny
covered buttons or button-and-loop closures work well here. Fabrics for
these tops include bleached muslin, supple or stretch velvets and plaid
taffetas, making this item holiday appropriate.
The '80s Mini-dress
There is an old saying in fashion: "If you are old enough to remember it,
you are too old to wear it." If that is true, then the current interest in
'80s-era fashion is perfect for young customers who have never had the
pleasure of synthetic shine, extended shoulders, frankly fake animal prints
and up-to-there lengths.
The newest dresses are body skimming and short, with interest at the top.
There are puff sleeves, one-shoulder cuts, sweetheart necklines and
high-banded necks. A shapely torso is emphasized with a bit of gathering or
princess seaming. Prints work well here, especially leopard spots, tiger or
zebra stripes, and lush florals. Shimmery jacquards or sequins add more
gritty glam.
The Liquid-Liner Pant
Another '80s-flavored item is the super-shiny pant. The finish can be ultra
high gloss, satiny smooth or oil-slick iridescent. With current technology,
it's impossible to tell at a glance whether today's shiny fabrics are
glazed wovens, lacquered jerseys, vinyl or even patent leather. The
wet-look effect can also be achieved with pavé sequins for a clubbier take.
These glossy trousers can be skinny or pegged, with most hitting just above
the ankle. Hems are accented with narrow cuffs or zippers. Slits or undone
zips give the silhouette a slight flare.
Something Plaid
Plaid is shorthand for so many fall-related references-think back-to-school
uniforms, preppy jackets, swingy kilts, grunge flannel shirts and woodsy
vintage blankets. All of the above are inspirations for next fall's cozy
looks. Any kind of plaid will work, from traditional tartans to boxy
buffalo checks and tweedy Prince of Wales layouts. Plaids are renewed in
unexpected color combos and over-scaled layouts, perfect for outerwear or
skirts, pleated minis, elevated shirt-jackets or fun, flare-leg pants.
Plaid items are often styled with other (mismatched) plaids or with
camouflage prints or leopard motifs for an irreverent pattern-on-pattern
effect.
The Playful Puffer
Puffer outerwear is a juniors staple. For next fall, these cold-weather
favorites move from neutral activewear items to eye-catching statement
pieces. Rainbow stripes-symbol of the key juniors value of
"inclusivity"-uptrend for knits and accessories and work perfectly for
horizontally quilted vests and coats. The stripes can be clear and graphic
or have a blurred ombré effect. Next fall's unexpected explosion of florals
have a place on puffers as well; when printed on fluffy duvet jackets,
these traditionally springtime motifs take on a decidedly autumnal spin.
The Collectible Bomber
The bomber jacket is still relevant, updated with surface treatments and
fresh proportions. Oversized versions emerge, with voluminous bodies and
full sleeves; dropped shoulder seams add to the roomy feel. At the opposite
end of the fit spectrum are abbreviated jackets with cropped lengths and
snug fits. Embellishments include embroideries and sequined appliqués for
fanciful interpretations or buffalo-checked patches for a more casual look.
Tweeds and nubby plaids are key, often accented with leather. Wide rib-knit
trims, channel elastic or sporty toggle drawstrings provide the
all-important gathered effects that give these blouson jackets their
signature rounded shape.