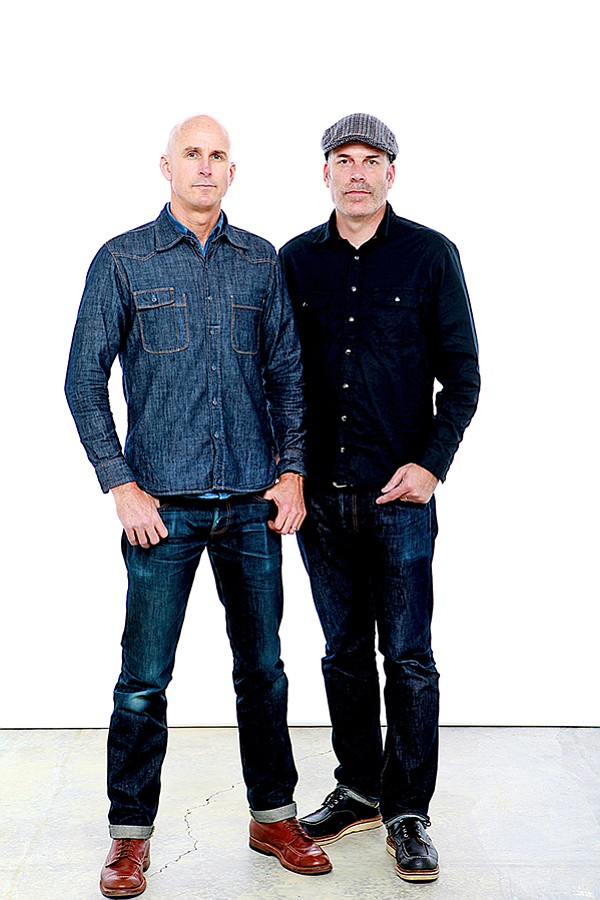 TELLASON: RAW DENIM
Tellason: A Rare Find in the Denim Industry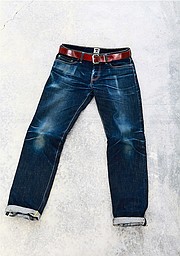 Ever since the brand was launched in San Francisco nearly 10 years ago, Tellason has been one of those rare clothing companies that only uses American raw materials for its collection of menswear blue jeans.
So when supplier Cone Denim called one of the label's cofounders last October, the sales rep asked if he was sitting down. The news was that Cone Denim was shutting down its White Oak denim mill in North Carolina in a few months and would no longer be able to supply Tellason with its selvage denim. White Oak was the last U.S. supplier of selvage denim made on old wooden looms.
"The day they announced their closure did not surprise me," said Tony Patella, the co-owner who was called. "What surprised me was that we were their fourth largest customer for all their denim, and we are not that big."
Patella and his business partner, Pete Searson, immediately shifted into overdrive and got the denim mill to pump out enough selvage denim before the end of last year to carry the company through 2019. It's sitting in a warehouse in Sausalito, Calif., across the bay from San Francisco.
U.S.-made materials is one of the elements that differentiate Tellason from other blue-jeans brands. "The world doesn't need another denim company," he said. "But what the world always needs is clothing that is better quality and is true to its history," Patella said.
It is also their adherence to quality and history that has made them a popular item among blue-jeans junkies who want an authentic pair of American blue jeans.
"One of the reasons we carry them now after four or five years is that they haven't really changed their ideology, and they have continued the way they started," said Andrew Thomas of Iron and Resin, a men's clothing store in Ventura, Calif. "We felt they were an appropriate brand for us because we are promoting American-made businesses."
The same goes for the owner of General Quarters, a menswear store on La Brea Avenue in Los Angeles. "I have to say that the American-made aspect of what they do was one of the most appealing sides to Tellason," noted the store's owner, Blair Lucio. "The quality was there in the fabric and production. Nothing overdone about the branding and something that looked very original to me."
Patella is one of those guys obsessed by a product's history and staying true to its nature. "I have this thing about historical products coming from where their history started," he said. "You can probably make prosciutto anywhere, but I prefer to buy it when it was made in Italy. Red Wing Shoes are made in Red Wing, Minn., but if they were made in Arizona, I wouldn't like that."
When he and Searson got together to start their blue-jeans company in late 2008, they knew they wanted their label to be made in San Francisco because it is the home of Levi Strauss & Co., which has been making blue jeans since the 1850s. They combined their last names to come up with Tellason.
From his earlier days as co-owner of another blue-jeans label, called Sutter's, Patella knew of a blue-jeans sewing contractor who still operated a factory south of Market Street near the San Francisco Chronicle newspaper building. "We picked up right where we left off," he said. "I felt it was important to support them and these jobs. If we don't give them business, these jobs go away." he said.
Even the hangtags are domestically sourced and the leather patches come from Tanner Goods in Portland, Ore.
The two started out slowly, spending 100 days to design and tweak their first style. "We started with one fit and one fabric. Then we had another fit in the same fabric," Patella recalled.
The first collection of 240 pairs of blue jeans shipped in 2009, but Patella and Searson, whose career had been in apparel sales and marketing, kept their day jobs, saving any profits for capital investment down the road.
After nearly 10 years in business, Tellason now has an international reputation—with 70 percent of sales overseas and 30 percent in the United States. Nick Sheppard, a clothing store owner in Perth, Australia, swears by the quality and coolness of the jeans, which retail for $230.
And stores in Japan, Germany, Switzerland, Belgium and the United Kingdom are snapping up the U.S.-made line.
Patella and Searson, who don't reveal their annual revenues, have long since quit their day jobs and expanded the line into denim shirts (with only four different styles), chinos made from a Carlisle twill developed by a South Carolina mill, jackets and sweaters.
Their styles don't change all that often. Guys like the brand because thedenim isn't sandblasted, washed or treated. It's just raw denim that lasts a long time. Patella said he had one customer who said he had worn his Tellason jeans 950 times. Their demographic is men between the ages of 20 and 60 who appreciate quality and like to break in their own jeans.
"One reason we have been around for as long as we have is because we are very consistent and we stand for something," Patella said. "Retailers want consistency and quality."