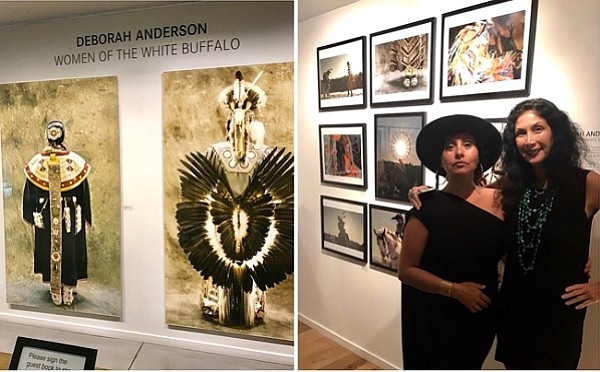 PHOTOGRAPHY AND FASHION
Women of the White Buffalo
Deborah Anderson, best known for her work as a photographic, film and music artist, was present at her recent opening of "Women of the White Buffalo," which is being shown in the Leica Gallery in West Hollywood.
It showcases the images of Anderson's travels to the Pine Ridge Reservation in South Dakota, home of the Oglala Lakota Nation and focuses on the women who are the backbone of the community and keepers of their ancient wisdom.
The photos include selections of traditional costumes of the tribe, beautiful scenery, landscapes and portraits of the proud women of the tribe. These photos are stills from Anderson's upcoming feature documentary film about the native women who live on the reservations.
Anderson's career in photography and art direction spans more than 15 years with works seen in Elle, GQ, Cosmopolitan, Vogue, Vanity Fair and campaigns for Bebe, to name a few. She also photographed some of today's famous celebrities including Elton John, Sharon Stone, Pink, Cindy Crawford and George Clooney.
Opening night brought out an array of attendees in the photography, film, fashion, art and creative industries. Many were so inspired by the exhibit's theme that they too came dressed in Native American-themed fashions.
The exhibit runs until June 25. The Leica Gallery is located at 8783 Beverly Blvd.