TRADE SHOWS
Outdoor Retailer Launches a New Show Schedule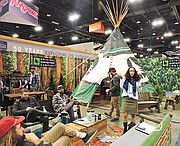 DENVER—Under clear blue skies with a forecast of snow, Outdoor Retailer did something it has never done before.
It held its Winter Market show in November instead of January, adjusting the show date to better coordinate with retailers' product needs and apparel-production cycles.
In the past, the Winter Market show was always held in January. A January show will still take place next year, but it will concentrate more on ski and snowboard gear and equipment than apparel. The Summer Market show in July will now be held in June.
The adjustment in show dates comes after Outdoor Retailer moved its decades-old, twice-a-year show last January from Salt Lake City to Denver after Utah governor Gary Herbert petitioned the Trump administration to rescind the newly created Bears Ears National Monument in southeastern Utah.
Representatives from Emerald Expositions, owner of Outdoor Retailer as well as the Outdoor Industry Association, REI, Patagonia and The North Face, spoke with the governor last year about the decision but were dissatisfied with the outcome.
So Emerald Expositions decided to pack up and move to Denver, starting with last January's show.
At the Nov. 8–11 show at the Colorado Convention Center in downtown Denver, the mood inside the venue was light and breezy with creative exhibits adapting looks from the outdoor world. The dress code was more blue jeans than blue suits.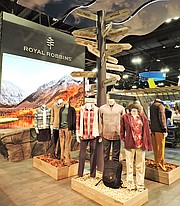 In one area was a foldup tent unfolded over a camper van. In another area, a large tepee sat in the middle of an exhibition space. Nearby, a Vibram Sole workshop had cobblers replacing the rubber soles on people's shoes. Long wooden tables resembling sophisticated picnic tables gave people a place to sit down and eat or type away at their computers.
Several large dogs were seen wandering the show floor with their owners, who visited the outdoor-oriented booths, which carried everything from apparel, backpacks, hiking boots and skis to technical textiles, zippers and software programs.
Royal Robbins, a San Francisco company recently acquired by the Scandinavian venture Fenix Outdoor International, was at the event to showcase its expanded sweater collection designed for the Fall 2019 season.
Royal Robbins has been a faithful exhibitor, having been at 50 Outdoor Retailer shows over the years. "For Fall 2019, Royal Robbins is doing an enormous collection of sweaters," said Julie Evans, a public-relations representative from Verde Brand Communications, which represents Royal Robbins. "Sweaters have always been a part of the Royal Robbins heritage."
Those sweaters included a performance collection of sweaters made of merino wool and polyester blends or alpaca and polyester, wholesaling for around $45.
New to the collection was a reversible pullover that was made of a polyester/acrylic blend combined with 7 percent merino wool.
For those who were looking for a versatile garment, the San Francisco company developed a travel scarf with five buttonholes that could be wrapped and twisted to form six different looks—from a shawl or scarf to a cardigan or poncho. It wholesales for $30.
Inside a booth lined with backpacks, Simon Aaronson, the USA director of sales for the Herschel Supply Co., was unveiling the company's latest lineup of design-driven apparel and backpacks.
He said traffic at the new November show was slower than in January and July, but he felt it would eventually pick up. "In terms of the location, I think it is just as good if not better," he said.
New backpacks in the collection designed by the Canadian company, which has its U.S. headquarters in downtown Los Angeles, included more travel-specific bags with a pouch on the back to slip over a rolling-suitcase handle. They wholesale for $40 to $50.
In the middle of the exhibition floor was a display by Cordura, a division of Invista, showing how its durable fabrics can be used in jackets, backpacks and denim pants.
"Overall, this show has been good. I have met with more designers than I ever thought I would," said Cindy McNaull, global brand and marketing director for Cordura, who didn't have a booth but an area set up with a couch next to the display. "It is definitely a slower show, but we have had some rich meetings and responses. This show here in Denver is closer to the hub of the outdoor business. VF Outdoors is moving its headquarters to Denver, and this is the epicenter for lifestyle brands."
YKK was at Outdoor Retailer to display its line of products—particularly its zippers made of recycled and plant-based materials. "We have seen a big demand for eco-friendly zippers," said Karin Nyegaard, global marketing manager for YKK. "There is a huge initiative for eco-friendly products in the apparel, luggage and handbag industries."