MADE IN LA
Nicole Alex: A New Line That Mixes Athletic Support With Everyday Garments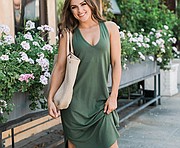 Nicole Zabal had been in the fashion industry for some 20 years when she decided to start her own line of athleisure apparel that had something a little different—a built-in shelf bra in all her tops and dresses.
Shelf bras are standard for workout tops and sleepwear, but an everyday just throw-it-on type of garment was out of the norm.
Zabal, who studied at the Parsons School of Design in New York, got the idea for her new Nicole Alex line when she was working at home as a sales rep for a British swimwear and intimate-apparel company. Much of her day was spent wearing an athletic top with a shelf bra and a pair of leggings. But if she had to go out to visit clients or have a business meeting, she needed to change her clothes because they looked too athletic.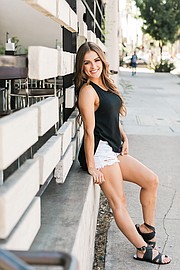 Wouldn't it be much easier to have a dress or top that had a built-in shelf bra she could wear while working at home and then keep on if she needed to dash out the door?
So last May she took the plunge. "I have been waiting to do this for 20 years, and I finally did it," Zabal said.
The newly minted brand owner met with sample makers and patternmakers in Los Angeles, not too far from her home in Sherman Oaks, Calif., to flesh out her first collection, which launched for Spring 2018.
She found a family-run contractor in East Los Angeles to cut and sew the garments.
The first collection consisted of 11 pieces in a few different colors. They include three styles of dresses, various tank tops and T-shirts as well as leggings.
Each shelf bra is made of four-way stretch fabric that has moisture-wicking capabilities. The seamless construction means it looks natural, and the top fabric drapes over the shelf bra for a relaxed fit.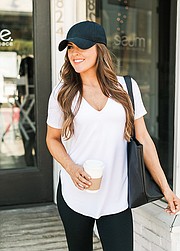 Zabal took a spin through the LA Textile show earlier this year to check out fabrics. She ended up choosing a certified OEKO-Tex standard 100 bamboo/cotton fabric, which is soft, antibacterial and doesn't have allergy-inducing chemicals.
She is the designer of the collection, which has simple lines and silhouettes. There are dresses that include long-sleeve, short-sleeve and sleeveless treatments with midi and knee-length hemlines.
Tops also have various sleeve lengths with V-neck and scoop-neck styles. There are also leggings, joggers and shorts. Everything comes in solid colors with wholesale prices ranging from $36 to $60.
Currently, Zabal is selling her line through her e-commerce site, www.shopnicolealex.com, as well as at the Perfect Fit Fine Lingerie store in Tustin, Calif.
"I've gotten really good feedback," Zabal said. "I didn't realize how many people love shelf bras."
For her next collection, she is hoping to get input from customers and retailers about what items they would like to see incorporated in her designs.