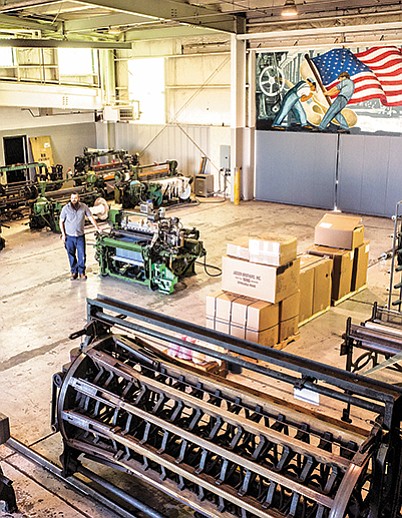 RESURRECTING U.S. SELVAGE
A Movement Is Slowly Rising to Resurrect Selvage-Denim Production in the U.S.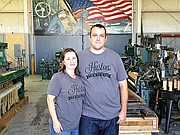 When it comes to manufacturing selvage denim in the United States, Ryan Huston could be the last man standing.
Inside an old airplane hangar at the former March Air Force Base just north of Sacramento, Calif., the Huston Textile Co. has six Draper shuttle looms from the 1960s. Of the six looms, one can make the narrow-width selvage denim so cherished by purists who relish the fabric's finished edge.
Shuttle looms were very versatile and popular until the 1950s to 1960s when U.S. denim mills modernized their machinery to increase production and feed the growing demand for denim fabric.
With less demand for shuttle looms, the Draper Corp. shut down in the 1970s.
Until the end of last year, Cone Denim Mills was the last producer of selvage denim in the United States, but a private-equity group that bought the company in 2016 decided it wasn't profitable to make the fabric anymore. Consequently, the company's selvage-denim operations at its White Oak mill in Greensboro, N.C., shut down at the end of 2017 after being in operation since 1905.
That left denim makers scrambling to find selvage-denim sources outside the United States—principally in Japan and Italy. But selvage-denim enthusiasts are hoping more people like Huston will fill the void in the United States.
Tony Patella, co-founder of Tellason jeans in Sausalito, Calif., who was using Cone Denim selvage denim to make his premium-denim pants, is a purist and would like to see that kind of selvage-denim production done in the United States again. "I have this thing about historical products coming from where their history started," he said.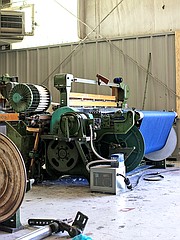 Huston has the same philosophy. It was in 2013 that he happened into the manufacturing business by using old looms to make a baby carrier–specific fabric and later moved into other fabrics, including denim.
"Then the vintage workwear enthusiasts contacted us about making shirting material and selvage denim and that got us on track," said Huston, whose company inside the former military hangar is home to the business' looms, sewing machines, a 40-foot-long cutting table, winders, warpers, a knotting machine, a fabric re-roller and tons of parts.
Huston, who runs his company with his wife, Kat, has found that his fabrics—which include cotton duck, canvas, chambray, and wool-and-cotton blends made on old looms—have become more popular than his selvage denim, which right now only makes up 7 percent of his production. But he is hoping to change that when he finds a U.S. company that produces indigo-dyed yarns for his selvage denim. Indigo lets denim fade with a more natural look. "One of the important things about blue-jeans denim is that it fades," he noted.
Right now, Huston is doing runs of sulfur-dyed denim and bull denim, but indigo is his preference. Custom orders for his selvage denim take about six months, with fabric selling for $12 to $30 a yard, depending on the quantity ordered.
The process to make his selvage denim starts when he places an order with a spinner in North Carolina who uses mostly U.S.-grown Upland cotton for the order. The yarn is then twisted in one of two mills in the South, sent to a dyer and then on to Huston Textile.
Using U.S. fabric manufacturers is important to Kristine Vejar, whose natural-yarns-and-fabrics store in Oakland, Calif., is called A Verb for Keeping Warm. She buys fabric from Huston Textile because the environment's health is very important to her. "It is precisely for these reasons why I am proud to support Huston Textile. They are a U.S.-based manufacturer that uses materials raised on U.S. farms," she wrote in an email. "We carry anywhere from Huston Textile organic-cotton canvas, wool cloth, wool/cotton cloth to their naturally dyed indigo cloth."
The search for old machinery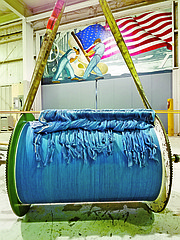 To find old Draper shuttle looms can be a bit of a treasure hunt. There is a small network of cognoscenti who deal in old textile machinery. Often purchases are done through word of mouth. "I got a couple of looms for free," said Huston, who has let people know he is in the market for shuttle looms. "A couple in Connecticut bought a house, and in the shed behind the house were a few looms."
They contacted him. He drove to the East Coast, picked up the looms and had them shipped to California.
Through a broker, a shuttle loom can cost as much as $50,000, depending on its condition, Huston said.
While Huston is trying to ramp up his selvage-denim production, a Los Angeles company that sells and distributes wholesale denim fabric is taking the first steps toward manufacturing selvage denim by as early as next year.
Omid Davoodi, chief executive of Los Angeles–based Pacific Blue Denims, said he has acquired six Draper shuttle looms and has another 28 similar looms in storage in Guatemala.
"We started on this project before Cone Denim shut its mill down," said Davoodi, whose family-run company was started in 1988. "We had these machines for years and had put the project on the back burner, but once Cone shut down, we shipped the [six] looms to our warehouse to get them going. There are a lot of our customers who have their brands based on U.S.-made selvage denim as well as ourselves who sell it."
When Davoodi heard Cone Denim was closing down, he bought 500,000 yards of its selvage denim. "We sell these fabrics to people all over the world. I have customers in Japan and Thailand," he noted. "There is a very strong market for U.S.-made selvage denim. Once Cone shut down, everyone was looking to us and saying, 'What are we going to do?' Hopefully by next year we will be producing something."
Other people, such as U.S. blue-jeans manufacturers, also bought up what was left of Cone Denim's selvage denim last year, but supplies will start dwindling.
Ryan Huston is counting on it. "When Cone closed, I heard from my customers that they were stocking up inventory," he said. "It hurt my business, but as they use that supply they are going to have a harder time finding it. I'm hoping that will benefit me."