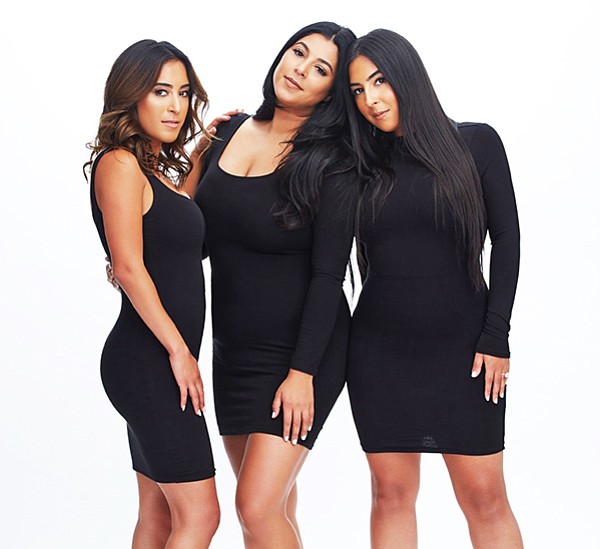 FAMILY BUSINESS AFFAIR
How Three Sisters Launched a Multimillion-Dollar Business With Very Little Money
When the Kaviani sisters started their online clothing company from their parents' home six years ago, they never imagined that their $7,500 investment would mushroom into a multimillion-dollar enterprise selling mostly simple knit basics that have been seen on celebrities including Lady Gaga, Jennifer Lopez, Khloe Kardashian and her sister Kylie Jenner.
Today, the three Kaviani sisters employ a staff of 25 and are ensconced in a 15,000-square-foot office/warehouse in an industrial park not too far from their parents' home in Northridge, Calif., where the business started.
The interior of their offices is pure sophistication, with all-white walls, white furniture and large black-and-white photos in the hallway of models wearing Naked Wardrobe, the brand they founded in 2012.
"We are so proud and blessed to be in this place," said Shideh Kaviani, who, at 31, is the youngest of the three sisters and a graduate of the Fashion Institute of Design & Merchandising in downtown Los Angeles.
The essence of the brand is effortless, comfortable dressing in mostly knit apparel that hugs the body and comes in affordable prices. This is not for the body shy but embraces the curvy customer who flaunts every inch of her being. Not much sells for more than $40, and there is a constant barrage of special sales cutting those prices by 50 percent or more.
The collection includes knit biker shorts, bodysuits, rompers, dresses, midi and miniskirts, cropped tops, swimsuits, and the recent introduction of maternity wear under the Baby Mama by Naked Wardrobe label. Fabrics are often viscose or rayon with a touch of spandex. "We are known for our basic pieces. That is our bread and butter," Shideh noted. "Our bodysuits and dresses are very body-conscious, sexy and comfortable."
The path to comfortable clothing made mostly in Los Angeles started as a way for three clothes fanatics obsessed with online shopping to find a way to get clothing for free. At first, they were buying up other people's brands and selling them online. But soon they transitioned to manufacturing their own line. The idea was to be simple but make their products look chic and fashion-forward. Viscose was their go-to fabric with knit items making up 75 percent of the collection.
"The fabric is very versatile. The clothes you can take from day to night and from your desk to dinner," said Shida Kaviani, who, at 35, is the middle sister.
For the first two years, the three siblings kept their overhead very low by working out of their parents' house and concentrating on getting everything right. "The first couple of years, we had 20-to-21-hour days. We didn't date or have a social life. Some of our friends faded away because we had to make this our priority," Shida said. "People think starting a business is all rainbows and butterflies, but it is dedication."
With Shideh's FIDM degree in fashion design and business administration, they started to work as a team to create their line; find factories in Vernon, Calif.; and source as much fabric locally as they could. Sourcing locally is very important to them.
Shirin, the oldest, at 37, likes to push the team to create trends that are not there yet, and Shideh prefers to be more on trend. On an average week, they introduce 20 new bodies and never have more than about 500 SKUs on hand.
When they started Naked Wardrobe, the concept of selling clothing online was just starting to hit the Internet, and it was an idea that major retailers were just beginning to address.
But the Kaviani sisters, being millennials who understood millennials, knew that young women would be enthusiastic about the idea. "It is so easy. You order online and it shows up at your door," Shideh said.
Each sister has a specialty. Shirin, who studied graphic design at California State University, Northridge, also has Internet-technology expertise from her years working at Jacobs Engineering in Pasadena, Calif., where her mother works. Shirin handles Internet technology and graphic design for the company.
Shida, who also graduated from California State University, Northridge, with a bachelor's degree in communications, is in charge of public relations.
While the company has eschewed traditional forms of advertising, it does spread the word about the company the millennial way—by posting on Facebook, Twitter and Instagram. While the company does not reveal its annual revenues, the Kavianis noted that they made more than $2 million in sales their first year.
This was helped by the fact that the sisters are experts at getting their clothes on some pretty high-profile celebrities. Carmen Electra was the first celebrity to wear their brand, but from there it went to Kim and Khloe Kardashian, Lady Gaga, Kylie Jenner, and Jennifer Lopez. For a while, Naked Wardrobe was carried by the Kardashians' store Dash.
Naked Wardrobe sends the celebrities a box with some of their pieces and hope they post on Twitter, Facebook or Instagram. "Items fly off the shelf quickly when a celebrity posts what they are wearing," Shida said. "We got a dress on Lady Gaga, and we sold 500 to 750 dresses in a week."
Also, fashion influencers and customers post the unveiling of their "haul" on YouTube, being honest about what they think. In one post, Kristina Reiko talked about how the company constantly has sales, such as a 50-percent-off Friday. She liked the clothing for its double-lined knit fabric but warned that if you order white, you might be showing off your underwear. She also noted that some of the knit fabric snags.
Another customer, Alexandra Altagracia, who also was on YouTube, raved about the price of her Naked Wardrobe clothing, noting she got a denim crop top for $17 and khaki pants for $25.
As the company expands, so does the Naked Wardrobe product line. One year ago, the sisters introduced a cosmetics line called Dope Cosmetix, which is also made locally and carries an affordable price with lipsticks selling for $12 and pressed bronze blushers going for $20.
And for the past two to three years, the sisters have been dabbling more in fashion to fill the needs of their far-ranging demographic. They have introduced denim shorts and a bit of sparkle and glitz to the collection. A rack of colorful faux-fur and puffy jackets for Fall 2018 hangs in their conference room and images will soon be on the Web.
No matter how skilled they have become, keeping up with the fast pace of the Internet and fashion is a constant challenge. "I see social media as a blessing and a curse," Shideh said. "It is so fast and makes you move at such a rapid pace, but we do our best to keep up."