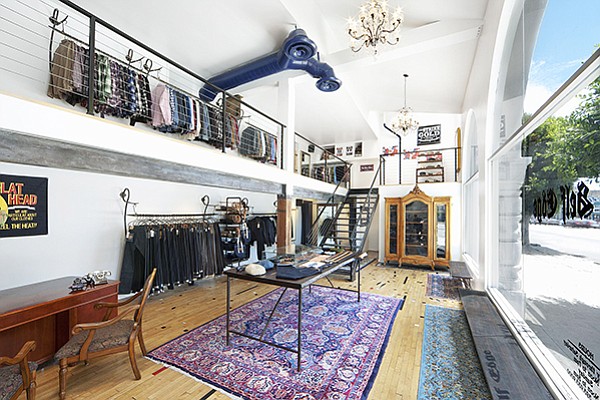 WHAT'S CHECKING: LA BREA
What's Checking La Brea Avenue: Still Eclectic After All These Years
Since the mid-1980s, Los Angeles' La Brea Avenue has been a fashion street.
When American Rag Cie opened in 1984, La Brea was lined with independent, multi-brand boutiques.
In the past few years, the street's retail mix has changed and is now dominated by high-end streetwear shops, including flagships for Champion and OVO, a brand owned by hip-hop star Drake.
But this big street has enough space for all sorts of clothing, ranging from made-to-measure clothes at Sene to
high-end vintage at The Way We Wore and a recently opened flagship for Nudie Jeans.
General Quarters
153 S. La Brea Ave. (323) 937-5391 generalquarters.com
This is the eighth year that General Quarters is in business on La Brea, said owner Blair Lucio. To celebrate, he remodeled the interior of the shop with white-oak wood tables and countertops, which he said provides a different look from other men's stores.
Popular items at the boutique include made–in–Los Angeles jeans by Rogue Territory with Japanese selvage denim specifically manufactured for the brand, Lucio said. The jeans retail for $240.
British outerwear brand Universal Works has been selling well. Silhouettes include sweatshirts, zip jackets and coats with Sherpa lining. Retail prices range from $200 to $400.
Los Angeles' Free & Easy brand is inspired by the surf looks of the 1970s and 1980s and styles for BMX biking. Retail prices range from $50 to $90 for its caps and long-sleeve T-shirts. The brand gained notoriety earlier this year when Lakers basketball star LeBron James was photographed in the cap with the words "Don't Trip."
The store's self-named brand, General Quarters, makes up about 40 percent of sales, Lucio said. It's a full collection of button-down shirts, tees, knit caps, baseball caps, pants, jewelry and belts. "We keep things unique. A lot of what we do is 'one-and-done,'" he said of making limited-edition collections. "We have some shirts that we've been running for six years. Our Griffith Park tee and our shop logo are the most popular." Retail prices range from $38 to $250.
Kelly Cole
175 S. La Brea Ave. (323) 692-5012 kellycole.com
Kelly Cole started in the clothing business by selling vintage T-shirts with a high pedigree. Rock concert T-shirts from the 1970s and 1980s could sell for as much as $500.
"It's the desirability of the band, the popularity of the band," he said, explaining what makes a shirt high-vintage material. Rare shirts from popular bands can command top prices. T-shirts with graphics from Hollywood films and promotional T-shirts also are sold at his La Brea shop.
Selling vintage T-shirts served as a master class in T-shirt design for Cole. He started his self-named Kelly Cole label of tops and jeans. In 2012, he opened the 700-square-foot Kelly Cole boutique, whose interior is inspired by curio shops and 1970s head shops. Hanging on the walls is art from acclaimed punk-rock artist Raymond Pettibon as well as a 19th-century ceremonial robe from the Freemason Society.
He sells vintage shirts from bands that perhaps last performed in 1979. Also on the sales floor, the best-selling items from the Kelly Cole brand are the signature tee, which Cole described as a basic top made from a loose cotton fabric.
The crew-neck tees, which retail for $65, come in several different color ways, ranging from light blue, gray and white to a reddish color called brick.
Cole also makes jeans, which retail for $164. The slim/straight jeans come in raw indigo and black. Kelly Cole jeans are only available in the brand's La Brea boutique.
American Rag Cie
150 S. La Brea Ave. (323) 935-3154 americanrag.com
When American Rag launched in the 1980s, it sold vintage clothing and only one brand of new clothing—Paul Smith.
Since then, it has expanded to a 17,000-square-foot space. Its merchandise has grown to include shoes, menswear, denim jeans, women's clothing, CDs, housewares, accessories, books and jewelry. In 1988, American Rag founder Mark Werts opened a restaurant next door called Café Midi, which offers a menu of French bistro and café food. In 2007, he opened the World Denim Bar, which today offers 75 different brands of jeans.
Werts credited American Rag's longevity, in part, to the store's aesthetic. "We're whimsical. We tend to break norms," he said. "We're about style, not price."
American Rag also looks to provide styles and goods that customers request. After a number of customers asked about what music was being played at the store, American Rag started selling CDs.
In 2019, technology is going to be a big deal. Among the tech-enabled items on the horizon is a robot that will greet customers. The Japanese-made machine will tell customers where to find clothes in different sections of the emporium. However, robots will never replace salespeople. "It's just extra help," Werts said.
Another new tech device will be interactive mirrors, which will communicate with an RFID-style tag made by the Bluetooth label. The mirror will be able to recommend what matches each garment and provide additional information on the clothing.
American Rag has a team of five buyers, including Werts. Women's buyer Rita Chien said that button-up shirts from Los Angeles label Xirena were selling well. "They're easy, basic tops," she said. They retail for under $200. Basics from Stateside, the sister brand of Xirena, also were doing well. The line is known for a twist detail in the top's front. The shirts retail for under $100.
Bleu
454 S. La Brea Ave. (323) 939-2228 bleuclothing.com
In May, Bleu celebrated 20 years of selling designer and contemporary clothing on La Brea Avenue.
Bleu founder Gabrielle Zuccaro said she has been serving the same customer since 1998. It's a woman who wants to look unique, she said.
While her customers haven't changed, what has changed is the pace of fashion. "Fashion was always fast paced," she said. "It is just getting faster."
Bleu does well because the store strives to serve as a personal shopper for its clients, which has helped sales rise 53 percent over last year.
The shop's best-selling items include a $295 Derek Lam sweatshirt with plaids and stripes. Also popular is the Los Angeles–based RtA brand's navy patent-leather pant, which retails for $1,095.
The Zhivago brand makes a body-conscious jumpsuit that is popular. "It's sexy. It's edgy. It's body conscious without being cheesy," Zuccaro said. It's a play on athletic wear. But it's fashion. You can take it anywhere."
Bomber jackets with a twist from the 3.1 Phillip Lim label have been popular. The jackets, selling for $950, feature silk and satin fabric as well as beading. "It's wearable art," she said.
Self Edge
144 N. La Brea Ave. (323) 933-9000 www.selfedge.com
Kiya Babzani opened Self Edge more than a decade ago with his wife, Demitra, to sell jeans from Japanese brands not available in the United States.
They carved out a niche allowing them to open five stores. The La Brea location is the biggest. The two-level store stretches over 2,000 square feet. On the top floor, there's a tailor shop and sales space for shirts and jackets. On the ground floor, denim pants are sold as are CDs from Wild Records, a Los Angeles label focused on rockabilly and soul music.
Babzani conceded that selling CDs is not a good business in an age of iTunes and streaming music services. But the music display creates a mood and experience that can't be recreated online and attracts people to the bricks-and-mortar store.
Top-selling items include jeans from Pure Blue Denim, headquartered in Okayama, Japan. Retail price points range from $295 to $335. What makes the brand's jeans unique is its denim fabric, which is heavier than other denim, Babzani said. Pure Blue also develops its own proprietary shades of indigo.
Also selling well are jeans from Iron Heart. The store sells the brand's collection, which sells for $275 to $345, ranging from flannel shirts to denim jackets. The label's straight, tapered jeans are popular. They offer more room in the thigh and taper into a skinny fit around the ankle, Babzani said.
The Strike Gold brand has also been popular. The label specializes in unique materials to make intricate fabrics. Retail price points range from $305 to $335.