TEXTILES
Obituary: John Marshall, Owner of JM International Group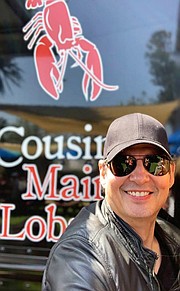 John Marshall, a longtime Los Angeles resident and president and owner of JM International Group, passed away on June 15 from natural causes. He was 52.
During his more than 30 years in the industry, he had a number of positions. Marshall started out as a fabric and trim buyer at contemporary clothing companies Carole Little and Francine Browner before transitioning to fabric sales in 1999.
He was the West Coast sales manager for French lace and fabric mill Solstiss/Bucol, where he worked for nearly a decade before starting his own textile sales agency in 2009. He represented several European mills including Malhia Kent, Euromaglia, Bella Tela, Vema and Confetti as well as an array of knits, novelties, embroideries and prints.
He worked with a number of contemporary and luxury brands that included Monique Lhuillier, Rodarte, St. John, Seven For All Mankind, Levi's, Karen Kane, Black Halo, August Getty, Bob Mackie and Nolan Miller.
Marshall had a vibrant personality that lit up every room he entered. He was a conversationalist extraordinaire who could talk about movies, photography and one of his favorite subjects—travel.
He had been to 57 countries on six continents, pursuing his goal of seeing the most breathtaking spots in the world. One of his most life-fulfilling experiences was seeing the mountain gorillas of Rwanda.
Adrienne Infante, a design director at Monique Lhuillier, said Marshall was everything: an artist, a photographer, an adventure seeker, a brother, an uncle and a dear friend. "There was and will always be only one John Marshall. When you entered the Los Angeles Textile show, he was the first smile you saw and immediately you felt welcomed. I always looked at him as the 'Mayor of the California Mart.' I would visit him at the mart and it was like being with royalty. Although we met through work, my relationship with John was beyond fashion. On a personal level, I will miss my teddy bear of a friend who had always been there. His light will forever shine on."
Adam Taubenfligel, the creative director and designer for Triarchy Denim, who often bought Malhia Kent fabrics from JM International, moved to Los Angeles and found it was hard to make friends until he met Marshall, who was always upbeat about everything. "We had a special relationship," Taubenfligel said. "He was kind of my therapist. I would go to a meeting to look at the line, and then we would sit for hours with him schooling me on my personal problems."
Taubenfligel said he was enamored with Marshall's travel photography, which was displayed all over his office walls. "I couldn't be around him and not smile," the designer said. "There was never a down moment with him. I loved John."
Kathryn Thomas, the designer and creator of the childrenswear line Alice Kathleen & Company in Raleigh, N.C., said Marshall was diligent in his work and had high ethical standards. "He valued relationships and nurtured them as well," she recalled. "He was highly dependable and caring. I feel like I have lost not only a colleague but a friend too."
Andrea Brown, the founder and designer at childrenswear line Hannah Kate, said Marshall was passionate about his work and his travels. "When he took us to his showroom, we thought we were in heaven," she noted. "Never had we seen so many beautiful, unique, quality fabrics in one spot."
Marshall's level of excellence and detail matched her company's desire to deliver a high-end product. "He was a man of character, a fighter, and he will be missed terribly," Brown added. "When I picture John, I picture his black glasses, black jacket, perhaps a scarf…always impeccably dressed, and I can hear his unmistakable laugh."
Marshall was born in Port of Spain, Trinidad, and moved with his parents, Antonia and William Marshall, and siblings to St. Croix, U.S. Virgin Islands, at the age of 5, where he later graduated from Good Hope School in 1984.
He attended Otis Parsons School of Design and the American College of Applied Arts in Los Angeles, where he won the senior design competition and graduated in 1989.
He lived for 10 years at the Park Plaza Hotel, a Gothic Revival structure now called The MacArthur, built in 1924. He swore to friends there were ghosts he had to tell to be quiet because he had to go to sleep.
Marshall is survived by four siblings: Christine, Colin, Catherine and Colvin, as well as four nephews and three nieces and countless cousins in Trinidad and Canada. He was preceded in death by his parents.
His two Russian Blue cats, Ripley and Bishop, are entertaining his niece and nephews in Pasadena, Calif.