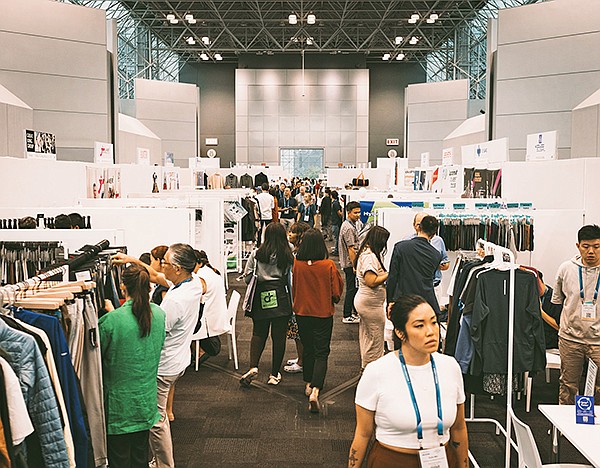 NY TEXTILE WEEK
A Diverse Roster of Events Shapes New York Textile Week
Summer 2023's trade-show calendar is in full swing, and in the middle of the schedule were the July events of New York Textile Week. This year's roster included the New York editions of The Fabric Shows, Functional Fabric Fair, Kingpins, Preface, Première Vision, and Texworld and Apparel Sourcing. The events were hosted throughout the week of July 17–21 at different sites around Manhattan. From performance fabrics or luxurious textiles to denim and responsibly manufactured notions and fabrics, New York Textile Week epitomized the old adage of, "If you can't find it here, you can't find it anywhere."
While each show catered to a specific need of buyers, the events collectively reflected themes that touched upon aspects of sustainability. Whether exhibitors unveiled new technologies in textiles, local fabric sourcing or ecologically responsible materials, many suppliers are helping brands and designers meet their environmental goals.
Fabric Show makes the scene in Midtown
The New York edition of The Fabric Shows was hosted July 17–18 at The New Yorker Hotel near Midtown Manhattan's Penn Station. Focused on textile and trim suppliers from the United States, Canada and Europe, the show afforded options for guests who seek low minimums and domestic production.
"Since our launch in 2012 [as DG Expo] we've offered buyers—from startups to some of the most prominent designers and well-known international brands—a unique, curated show with exhibitors from the Americas," said Susan Power, show producer.
More than 50 exhibitors showcased materials such as linings, eco textiles, active applications, embroidery, silks, jacquards, organic buttons and notions, in addition to development services and incubators for emerging designers. Attendees traveled from 27 states plus Puerto Rico, Canada, Mexico and the Caribbean.
Functional Fabric Fair's off-Broadway performance
Outdoor and sports-apparel professionals made their way to the Javits Center July 18–19 for Functional Fabric Fair powered by Performance Days to examine offerings from more than 140 exhibitors. The show reported 2,300 attendees, who met with exhibitors including Allied Feather and Down, Naia from Eastman and Polartec.
The session "Performance Colors by Nora Kuehner, Manmade Colors & Trends in Summer 2025" examined color and trend through a trans-seasonal perspective as well as sociocultural developments. Another session examined "PFAs—Issues and Industry Resources" and featured industry experts from the Hohenstein Institute America, Norton Rose Fulbright US LLP and PVH.
"We were overwhelmed by the number of attendees and the positive feedback they've shared," noted Steve McCullough, event director of Functional Fabric Fair. "It's an honor to welcome back returning exhibitors while introducing new brands to the outdoor textile industry."
Show producers were committed to developing a more responsible show by taking steps such as constructing exhibitor booths and other features using 100 percent recycled materials. By taking this direction, the show floor generated a 0 percent carbon footprint.
Kingpins hosts and boast denimheads
Kingpins returned to Basketball City at Pier 36 July 19–20, bringing together denimheads to connect the community. Now under the guidance of its new shareholder, Messe Frankfurt, Kingpins New York featured more than 85 companies representing fresh, innovative approaches to denim, such as AI-generated denim from Soorty and an Orta installation that showcased the company's history of advancements.
Kingpins also featured educational programming as blue bloods continue the large undertaking of becoming more ecologically sound. According to Kingpins Show Managing Director of Global Sales Vivian Wang, the impending 2030 deadline to meet the United Nations Sustainable Development Goals has inspired professionals across all aspects of the denim industry—mills, retailers and brands—to seek solutions that help them improve environmental and corporate responsibility.
"Our Most Sustainable Product initiative is one project that highlights the best sustainability developments from our exhibitors," said Wang. "This year, we expanded the program and used these developments to create a collection of MSP garments. Similarly, we hosted a seminar to show how the Transformers Transparency Tool can help companies evaluate sustainability claims."
Preface presents sustainability and innovation
July 19–20, in the center of Manhattan's garment district at 265 W. 37th St., Preface brought together suppliers of innovative materials and notions in addition to industry experts to discuss apparel advancements toward responsible sourcing. Covering Fall/Winter 2024, the show featured a specially selected roster of fabric providers, manufacturing partners, trim resources, color experts, trend experts and product-development companies.
"Runway trends were in high demand including fuzzy brushed fabrics, recycled faux furs and leathers, regenerative wools and liquid satins," said Betsy Franjola, founder of BFF Studio and Preface. "Preface innovation trends that captured the most attention included our RE-Juvenate forum including fabrics that were plant and protein based with restorative properties, the RE-Circulate eco-viscose forum selections, and the RE-Think waterless sublimation printing where we featured Greentex no-MOQ printing."
The show's roster of speakers included Angela Boswell of Accelerating Circularity, who discussed the organization's playbook, which outlines steps the apparel industry can follow to cultivate a circular economy. Maria Cerecedo of Pyraztex covered new fibers and materials available to the industry in addition to the challenges of trying to incorporate sustainable fabrics.
Première Vision sees uptick in Midtown
During Première Vision New York, which was held July 18–19 at Center415, more than 2,600 attendees shopped Autumn/Winter 2024–25 trends from 179 exhibitors. Attendance rose 31 percent over July 2022, with buyers visiting from brands including Aknvas, Calvin Klein, Cinq à Sept, J.Crew, KITH, LoveShackFancy, Marc Jacobs, Rag & Bone, Rebecca Minkoff, Tommy Hilfiger, Under Armour, Vera Bradley and Veronica Beard. Exhibitor engagement increased 80 percent over the same period.
Highlights of the show included recycled resources, fiber blends, natural dyeing and repurposed fabrics. Première Vision consultant Celine Khawam presented a "color and trend tasting" to showcase color trends across fashion media and provide guidance regarding aligning ethical fashion with Autumn/Winter 2024–25 trends.
Taking Manhattan with Texworld and Apparel Sourcing
Messe Frankfurt's Texworld New York City and Apparel Sourcing New York City were produced at the Javits Center July 18–20 as co-located events that attracted 1,000 exhibitors with sibling show Home Textiles Sourcing.
"The event has once again proven to be a pivotal platform for the textile and apparel sourcing community, offering opportunities for networking, education and collaboration," said Jennifer Bacon, vice president of fashion and apparel for Messe Frankfurt, Inc.
Country pavilions showcased goods from India, Korea, Turkey and Uzbekistan. At the Lenzing pavilion and the Lenzing Innovation Center, attendees discovered sustainable materials. Greener sourcing was also highlighted during the Textile Talks and the Lenzing Seminar Series with an emphasis on innovation in ecological responsibility.