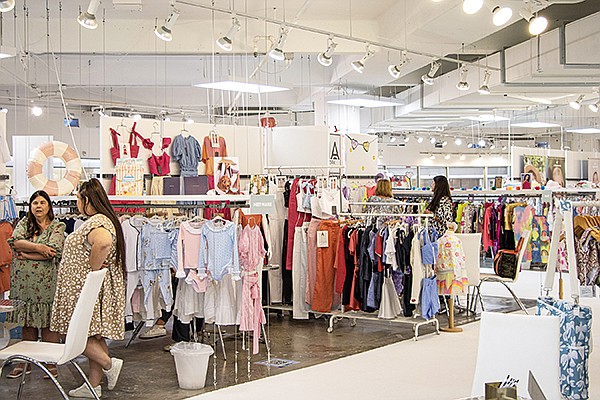 TRADE SHOW REPORTS
ANDMORE Successfully Completes Overlapping August Markets
Atlanta Apparel and Formal Markets, held July 31–Aug. 5 at AmericasMart Atlanta, showed healthy buying across the contemporary, children's, bridal and prom categories.
"The energy of the overlapping formal and apparel markets could be felt across all 14 floors, and buyer enthusiasm is showing no signs of slowing," said Caron Stover, ANDMORE senior vice president of apparel.
Strong attendance from the combined markets drew attendees from 47 states as well as 26 countries. ANDMORE also reported 20 percent of buyers as first-time attendees. A breadth of new styles was showcased across more than 450 temporary exhibits and 410 permanent showrooms. Buyers praised the overwhelming ease and product range as well as the market's signature Southern hospitality, while brands experienced strong order writing, with many buyers beginning to source early Spring while wrapping up the last of their immediate and holiday orders.
First-time exhibitor Katie Walters, CEO of the contemporary women's brand Francis + Benedict, said, "We've only been in two boutiques in Charleston, S.C., and this is our first time trying to sell wholesale. We exceeded every expectation and even had our first $10,000 order, which I never expected to get."
Formal Markets showcased over 180 individual collections across AmericasMart's permanent showrooms and temporary exhibits, making it Atlanta's largest-to-date formal showcase and the biggest social occasion market in the country. Brands reported having incredible markets with large-scale orders from national and international buyers.
"Social occasion is an electric category, and the proof is in the number of buyers and brands we welcomed to Atlanta this August," said Stover. "Retailers are hungry for new and trendy products across all price points, and exhibitors continued to exceed expectations with inventory."
Buyer Jennifer Fox, marketing director of The Bridal Collection in Centennial, Colo., brought her largest team ever. "We get to see all of the brands we want in Atlanta, which is why we bring such a large team," said Fox. "We are placing our largest orders to date this week."
Beyond the exhibits, the Formal Markets signature fashion show had standing-room-only attendance to view the 83 looks featuring bridal, quinceañera and prom bestsellers.