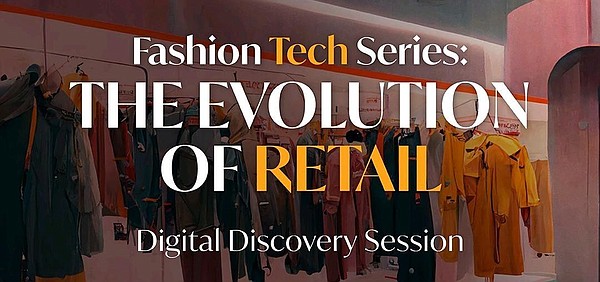 RETAIL
Informa, Fashion Snoops Unveil 2023 Retail Trends During Fashion Tech Series
Informa Markets Fashion and Fashion Snoops hosted "The Evolution of Retail," the first session in its Fashion Tech Series—educational online events to showcase innovations that will build a more efficient, agile and leaner fashion industry. The series runs through May.
The session explored findings in the "Evolution of Retail Report" as Nico Gavino, strategist for culture and consumer insights at Fashion Snoops, introduced the five innovations driving retail technology: the phygital store powered by AR and VR, social commerce, made-to-measure, virtual try-on and intelligent recommendations.
Each of these advancements has led retail through the e-commerce boom of the last three years, defined by 3D, AI, personalization and, now, a return to bricks-and-mortar models that rely on omni-channel strategies to meet customers everywhere. To expand on these five areas driving retail technology, Fashion Snoops Culture Director Nivara Xaykao was joined by TUNL founder and Chief Executive Officer LJ Northington and Perfect Corp Chief Marketing Officer Adam Gam during the Jan. 11 event.
Omni-channel evolution in 2023
Retailers have been building their omni-channel offerings for years, but since 2020 the use of digital advancements and implementation of innovative tools has surged—yet the physical-store pendulum is swinging back. To accommodate consumers, retailers must embrace the technology lessons they've learned and apply them to their strategies not only online but also in-store.
"You saw the rise of digital and online with websites and social over the last couple of years, but people still want to be in stores. When you think about shopping in stores before COVID, you saw a lot of movement to this sort of showroom experience or creating those Instagram-able moments and trying to have those technologies there. All these digital technologies that you would be using when you were at home or on your computer or on your smartphone appear in-store."
To build the experiential commerce journey that will resonate with consumers, retailers must understand where opportunity lies now and the direction it will go. Northington noted that experiential commerce blends three elements: social media, gaming—such as Roblox and Fortnite—and blockchain. As metaverse experiences become increasingly important to consumers, retailers must prepare for a new retail landscape by learning the capabilities, hurdles and how to improve upon these technologies.
"Education is first and foremost," said Northington. "The best way to understand it is to spend an hour, sit down, download a MetaMask or crypto wallet and try to buy an NFT for $5 on OpenSea. It'll cost you an hour of your time and maybe $15, but you'll come out with a completely new understanding of how the process works and also how we can make it better."
Retail has struggled to align sustainable initiatives with toggling between consumer demands for fast fashion. The adoption of NFT offerings can ensure that retailers and brands benefit from initial customer investments into their products in addition to the resale transactions that follow. This strategy will also support a sustainable mission as retailers engage more heavily within the resale market.
"People can sell and trade NFTs back and forth. Let's say a retailer sells a product for $150 at retail and all of a sudden it goes on StockX for $2,000. [Currently, retailers don't] see the upside of that secondary market," explained Northington, who then expanded on the potential for NFTs to fortify a brand's bottom line. "Every time an NFT is traded, you—as the brand—get a royalty. As people are trading the claim to that product back and forth, you're getting a cut of every sale, and that's where the secondary revenue factor comes into play."
Courting the connected consumer
While customers enjoy visiting bricks-and-mortar for the experiential benefits, they crave the convenience of e-commerce whether they are lounging at home on the couch or killing time at the airport during a layover. Implementing tools that allow retailers to meet their customers anywhere is key. Gam and Northington noted that connecting with consumers through AI must yield a "hyperrealistic" experience.
"If it's accurate and it looks like the real product in real life and the real color that somebody is going to get when they get that product at home, what happens is it gives them confidence," said Gam. "If they have that confidence they're going to rely on that brand or that retailer site to purchase more things over time."
As these satisfied customers return, not only will they seek out the products they planned to buy but will also trust the brand or retailer's recommendations. The benefits of building trust with consumers through accurately replicating the in-store try-on experience anywhere will support retailers as they compete with other businesses that are building their omni-channel offerings.
"If you can mirror an experience that is true to life, then what you're able to do is help the consumer journey and help the brands and the retailers connect in a personalized way," explained Gam. "We've seen things with really high ROI as far as increased conversion, increased sales, increased time on-site, increased adds to basket, decreased return rates and overall a more satisfied experience."