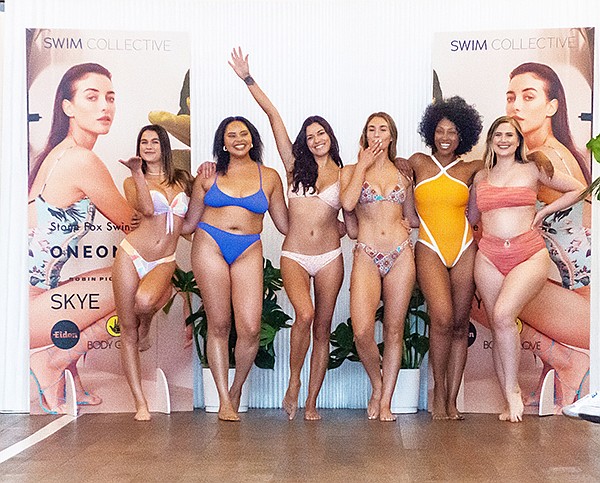 SUSTAINABILITY
Sustainability and Body Positivity Resonate With Swim Collective Buyers
Buyers descended on Huntington Beach, Calif., for Emerald's Swim Collective, held Jan. 19–20 at The Paséa Hotel & Spa, to shop for swimwear with substance.
Bromelia Swimwear Chief Executive Officer and founder Lauren Quinn saw buyers from California, Florida, Texas and Las Vegas. Quinn noted that buyers are looking beyond style into brands' stories.
"Going into 2024 they want to bring in more of these locally made products that have some ethical, sustainable feet to stand on," said Quinn.
Nicole Meuse, Americas corporate manager of luxury retail for Marriott, was visiting from Santa Barbara, Calif., to look beyond the Spring and Summer seasons.
"My favorite for Fall is this really deep chocolate brown that I haven't seen in a few years, so I am glad it's making its way back into the rotation," said Meuse. "It's so rich."
Attending the show for the Ritz Carlton Amelia Island on Florida's northern Atlantic coast, Nailah Nash, director of retail shops, was drawn to neutral hues and emerald green. The increase of swimwear manufactured to complement women's bodies rather than simply showing skin was noteworthy for Nash.
"There is a lot of attention being paid to women feeling special and comfortable in their bodies. The designers are starting to lean toward that and cut for it, which is a really special moment. We haven't seen that inclusiveness in the past," said Nash. "One-piece suits started to become popular around five years ago, and they're still very strong, sexy and any woman can wear them."
At the Swiminista booth, founder and CEO Andrea Bernholtz shared Nash's sentiment as she reported buyer interest in suits that offer more coverage and complement women's bodies.
"People are starting to book the long sleeves more. I did a little test last delivery, and now it's a big thing for this delivery," said Bernholtz, who saw Southern California, Arizona, New Mexico, Hawaii and Bahamas buyers.
Amid shifting consumer habits, many buyers at the event, including Shelli Stivers, director of retail at the La QuintaResort & Club in La Quinta, Calif., shared a common sentiment regarding shoppers' price sensitivity.
"We are a luxury resort property, and we put together an intentional, curated assortment," Stivers said. "There isn't much price resistance. We're very lucky to be in a high-end market."