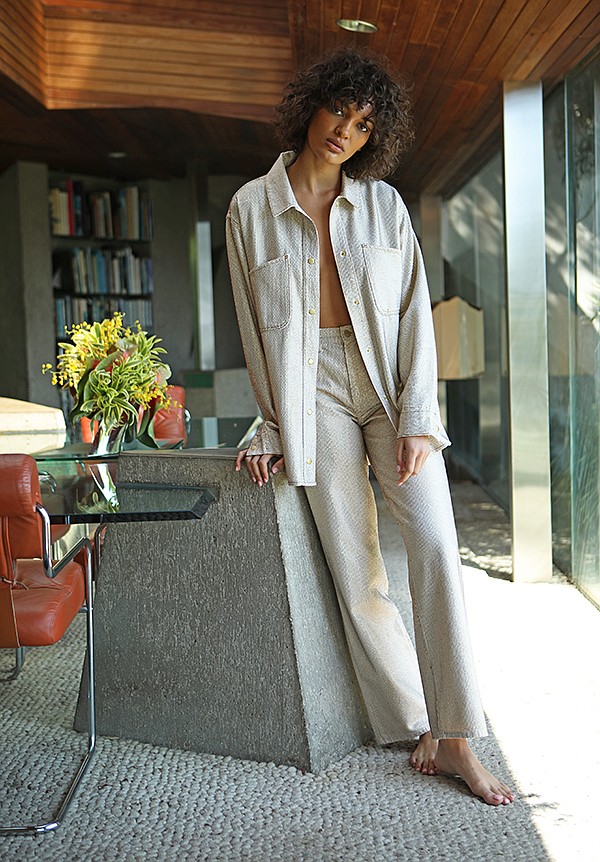 ELEVATING DENIM
Triarchy Resort 2023 Shines With Elevated, Responsibly Constructed Denim
Photo Gallery
Triarchy Resort 2023 Shines With Elevated, Responsibly Constructed Denim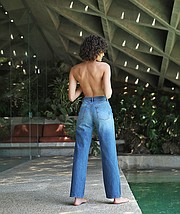 Photos by Adam Taubenfligel
Elevating denim to a luxury level requires finesse and expertise. Creating sustainable denim that aligns with the lofty expectations of the luxury category is a task only for the brave, yet that is exactly the route Triarchy co-founder Adam Taubenfligel chose for the brand's Resort 2023 collection.
"One of the hardest things as a responsible brand with such a strict lens on that responsibility is that there is so little we can do," said Taubenfligel. "So often I'll want to do foil or this detail or that detail. We'll start developing and I'll realize really quickly that we can't do this because of the chemicals or the procedures. It just doesn't fit within the brand lens."
The Vancouver-founded, Los Angeles–based brand launched in 2011 by Taubenfligel and his siblings, Mark and Ania, has been fully committed to designing sustainable denim following a three-year hiatus that began in 2016 to examine cleaner denim-making processes. Making cleaner jeans is now a nonnegotiable, from cotton sourcing to closet.
"It's really not impossible to put a collection like this out without being responsible. It's not easy, but when you start restricting yourself, the vendors and suppliers start to look for better ways to do the things you're looking for," explained Taubenfligel. "That change only happens when you stay hard-nosed."
When developing the Triarchy Resort 2023 collection, Taubenfligel, the brand's creative director and sustainability lead, wanted the collection to stand out. In addition to its beautifully crafted traditional silhouettes, such as the Ms. Fonda High Rise Wide Leg, and washes in light and dark indigo, he wanted the collection to shine—but also remain sustainable. The accents the designer sought would shimmer and crystals would be perfect, but as elegant details, not bling.
"I really wanted to do stone work, but the more we tried doing it, the vendors weren't really giving us anything that had any redeeming qualities," explained Taubenfligel. "Then there was one vendor that I told we were not going to move forward and they worked with me to say, 'Wait, if we're doing these stones out of glass, we can just change the source for our materials from raw to recycled. I didn't even know that was an option."
The result of Taubenfligel's commitment was a striking elevated-denim suiting concept. Comprising three complementary crystal-covered garments—the Ms. Cali Oversized Jacket and a choice of the Ms. Keaton High Rise Baggy Jean or Ms. Triarchy Short Skirt—the pieces are all made in off-white. The elegant garments can yield a formal look or be dressed down with sneakers for a playful style. For the Triarchy family, denim is acceptable to wear on all occasions.
"If you can walk into a room in a silhouette that's architectural and then it's denim, you're coming in with such a vibe. With the construction of the pieces but when you see that it's denim, it's relaxed. You're not giving off that energy as intense. You can show up looking incredible but it's still relaxed," said Taubenfligel. "It's probably the California influence coming through. Also, something that is huge for me—maybe because I'm Canadian—I love the Canadian tuxedo."
The Ms. Keaton High Rise Baggy Jean is also available in a light indigo with crystals and a vintage medium indigo without the embellishments. There is an inviting fluidity within the collection, which has led to an expansion in the customer base.
"We have a lot of guys wearing it. A lot of guys have been posting it on Instagram. It just wears so well. That's the nice thing about those cuts too. They are unisex," noted Taubenfligel. "I wear the jeans. I have the blue ones."
While the crystal-embellished jeans have been resonating with bricks-and-mortar shoppers, the brand's online clientele has been gravitating toward the Ms. Perri A-Line Dress, available in light indigo with crystals or dark indigo. As Triarchy designs continue to resonate with an expanding audience, Taubenfligel noticed a common characteristic among certain fans of the Ms. Perri A-Line Dress.
"The really nice thing about that is so many pregnant women have been buying it. We had so many people over the course of December and January wear it to their baby showers. It's comfortable and the cut is casual, but it happens to be covered in stones," noted Taubenfligel. "One of the girls on our team wears it with a pair of Converse high tops. It looks very cute."