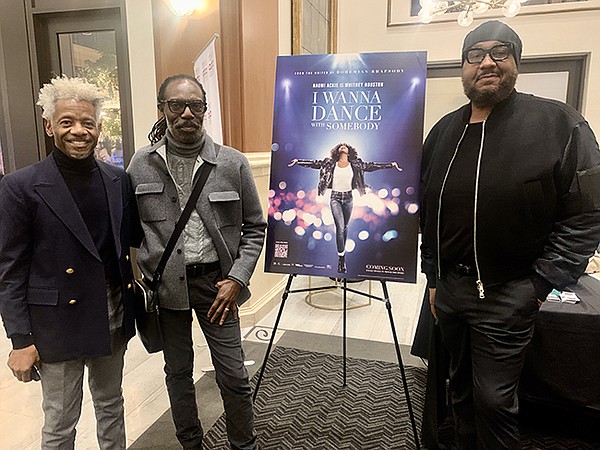 FASHION
Timothy Snell Shares Details of Whitney Houston's Ascent to Fashion Icon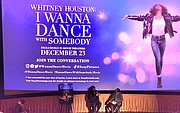 Following an intimate screening of the Whitney Houston biopic, "I Wanna Dance With Somebody," the artist's former stylist, Timothy Snell, shared fond memories of the icon. Black Design Collective co-founder Kevan Hall sat with Snell to discuss Houston's style preferences and the secrets behind her fashion choices.
"For the earlier looks, she worked with her mother [Cissy Houston], who was a singer and stylist," said Snell, speaking at the Dec. 19 event, which was hosted by the BDC and the African American Film Critics Association at AMC The Grove 14 in Los Angeles. "Marc Bouwer is the one who created the signature Whitney look with the velvet dresses, the turbans and the W.H. monogram on the turtleneck from the video for 'All the Man That I Need.'"
Houston's elegant performance looks enhanced her appearance and complemented her body, with the artist often wearing long silhouettes. Her style was influenced by artists such as Diana Ross and Dionne Warwick, Houston's cousin. While Houston wanted to appear "statuesque" and "striking," according to Snell, her fashion preferences also served her work.
"She loved the turtleneck because it kept her vocal cords warm. She didn't like to be cold," said Snell. "She wanted to create iconic looks for herself that wouldn't be dated."
Despite Houston's access to avant-garde fashions from the world's most venerable designers, she valued classic styles and simplicity. According to Snell, Houston often chose "a tank top in her spare time or a crisp, white shirt—a button-down white shirt—and a pair of jeans."
"She appreciated luxury and the finer things in life, but her style was very simple," added Snell.
While Houston was also known for a minimalist approach to wearing jewelry, one of Snell's final—and most touching—conversations with the artist regarded a lost earring, which took place shortly before she passed away on Feb. 11, 2012.
"She asked, 'Do you think you can get me another pair?' I knew that I could, but before we got off the phone she said to me, 'I love you very much.' I said, 'I love you back,'" Snell added. "This is the gift that I got from her."