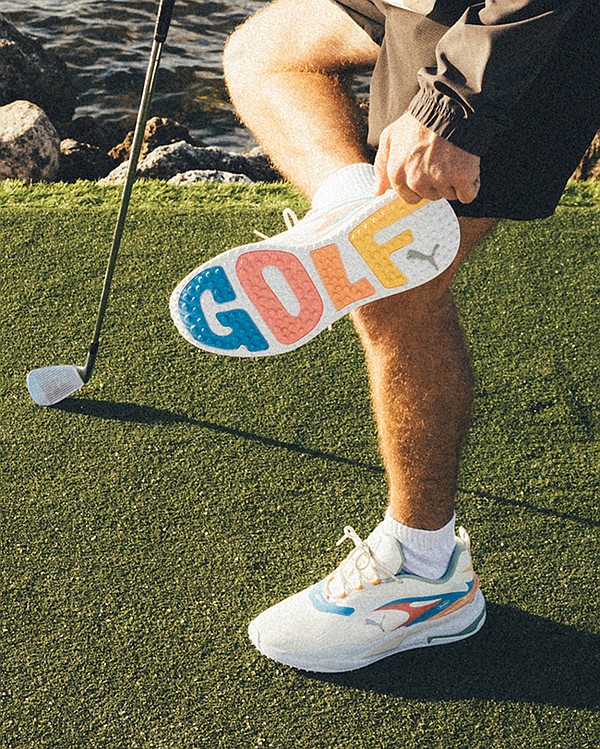 FASHION
New Capsule Collection by Puma, Duvin Design Co. Inspired by Hobie Cat
When Rickie Fowler turned pro in 2009, he also turned heads. The native Californian, who loved motorcycles almost as much as golf, made a style splash (the kind, some would say, when your ball lands in a water hazard), what with his long hair, trucker hats and matchy-matchy ensembles in orange, the color of his alma mater.
But he proved he could play and became a fan favorite for his genial interactions with the gallery, especially kids.
Fowler's style has matured along with his golf game, which is back on an upswing after several dry years. And he is at the center of a his second collection with Puma Golf, one of his sponsors, and the Duvin Design Co., which bills itself as "the internet's go-to beach brand."
Fowler grew up playing golf with Duvin co-founder Shaun O'Meara, son of Mark O'Meara, a two-time majors winner and member of the World Golf Hall of Fame. Entitled "Purveyors of Leisure," the capsule collection, priced at $35–$150, recently debuted exclusively on PUMAGolf.com and DuvinDesign.com.
Design inspiration comes from 1980s photos of Hobie Cat sailboats and includes a pastel and nautical color palette with sailing and palm-tree motifs. Noteworthy additions to the second collection include a spikeless golf shoe as well as a performance quarter zip. The spikeless golf shoe draws inspiration from Puma's popular RS Fast running shoe, featuring a multicolor "GOLF" sole that reveals itself as you finish your shot. The quarter zip is made up of color-blocked panels incorporating the full color palette throughout the garment. It offers full stretch and quick-dry capabilities, ensuring maximum comfort and performance.
The California Apparel News spoke with Austin Duvall, creative director and co-founder at Duvin Design, to learn more.
CAN: This is a three-way collaboration. How did it come about?
AD: Our co-founder Shaun O'Meara grew up competing with Rickie in junior golf. They stayed in touch through the years, and Rickie has always supported the brand. We were walking with the Puma team while watching Rickie at a tournament one weekend, and the first idea was brought up. Everyone was very excited about the possibility of the collaboration.
CAN: Fowler burst on the scene with his matchy-matchy ensembles. How has his style matured, and what was his main inspiration for the collection?
AD: Rickie obviously became known for his bright-orange outfits, and while everyone still loves seeing him wear the orange, he wears it more sporadically. It's been really fun working with him as he is willing to still push the boundaries and wear some unique apparel. We tried to walk the fine line of fun leisure apparel that also fits into the golf world.
CAN: Is there anything specifically California about the vibe of the collection?
AD: We pulled a ton of inspiration from the California catamarans and their bright, colorful sails. The polo includes art of the actual catamarans while the color palette of the sails is carried throughout the collection.
CAN: In the crowded field of golfwear, how are you marketing this and trying to stand out from the rest?
AD: A combination of quality and look. We were very excited to partner with Puma because of the quality of golf apparel they produce. We took that base and really tried to apply our unique look as a brand. When you look at everything, from the jacket to the shoes, there are a lot of design details that you might not expect in golf.
CAN: How did the first collab go? What did you learn, and what did you change this time around?
AD: The first collaboration went really well, so we immediately went to planning the second version of the collection. While the entire first collection was very loud, we tried to mix and match pieces that could be more easily worn on the course consistently.
CAN: Many know about Fowler's motorcyle racing when he was young. Does he also have a love of watersports?
AD: Rickie was very into motocross more than anything else. My business partner Shaun grew up surfing and skating, so those types of action sports were always something that Rickie and Shaun connected over when crossing paths in the golf world.