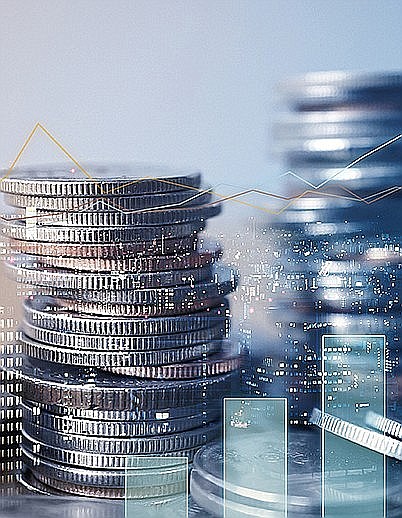 INDUSTRY FOCUS: FINANCE
Taking Eco Transparency Into Account When Considering Financing
Ecological and ethical influences have reached every area of fashion and apparel. Abiding by greener apparel guidelines requires brands to remain transparent by revealing each step they take and partner they work with along the supply chain. A large trend in sustainability, which supports greater transparency in fashion, is creating a circular economy. 
By sourcing to create a circular economy, brands rely on using or repairing upcycled and recycled pre- and post-consumer materials to create their goods, allowing them to share their sourcing information with consumers.
When brands make sustainable claims but are unable to provide transparent insight into their practices, negative consumer responses can be swift and severe, which could cause the value of the company to nosedive. With this in mind, California Apparel News asked financial-industry leaders: With the current emphasis on corporate responsibility for businesses to build a transparent, circular economy, what advice are you giving to your apparel clients and do you, as a lender, have any sustainability guidelines or requirements they must meet?
Darrin Beer
Western Regional Manager
CIT Commercial Services—a subsidiary of First Citizens Bank
 Many apparel companies and retailers alike are emphasizing the importance of designing and selling ethical and sustainable products. Equally, consumers are looking to purchase more–environmentally friendly clothing as the fashion industry works to reduce its carbon footprint. Even major retailers and several well-known websites have gotten behind eco-friendly trends by experimenting with selling used clothing.
In light of the fashion industry's impact on the environment, many of our clients are already emphasizing sourcing and manufacturing products from ethically and environmentally responsible vendors. This can also be an important brand-building opportunity and a competitive differentiator, considering the consumer focus on eco-friendly business practices.
Enhanced socially responsible practices from our apparel clients are continuing to evolve. Apparel clients should be mindful of state and local sustainability initiatives that may require their participation. To the extent that apparel clients are already implementing green approaches in their sourcing or operations, they should look for ways to highlight those achievements to their customer bases. Handled thoughtfully, sustainable practices can be a business opportunity as well as a benefit to the environment.
Mark Bienstock
Managing Director
Express Trade Capital
 Our focus at Express Trade Capital is to be actively engaged with our clients from the initial stages of the relationship and throughout our ongoing history with them. That means we are focused on understanding their entire supply chains, in particular as to how all these entities avail themselves of best practices throughout the social spectrum. Key areas of focus are how these companies treat their employees to the materials that are sourced for the overall production of the finished product.
There is no one-size-fits-all checklist for each client. As we are true relationship lenders by understanding the entire eco process, we are able to provide both significant economic and intangible guidance to our clients that helps facilitate them being better organizations from top to bottom.
Tae K. Chung
Senior Vice President, Business Development
Republic Business Credit
 At Republic Business Credit, we take pride in offering factoring and asset-based solutions tailored to apparel companies engaged in the full spectrum of manufacturing and distribution, encompassing everything from raw materials to finished products. This extensive experience provides us with a unique perspective on the financial aspects of this dynamic industry.
We view ourselves as trusted advisers to our clients and wholeheartedly encourage them to embrace greener initiatives to proactively address the future of the industry. For instance, we advocate for investing in sustainable and responsible sourcing practices as well as actively minimizing waste generation through the adoption of recycling methods. Furthermore, incorporating eco-design principles into their operations can significantly reduce environmental impacts, and we actively support clients in these endeavors.
Recognizing that sustainability is an evolving concept, we advise our clients to stay informed about the latest sustainable practices and industry standards. By doing so, they can stay at the forefront of innovation and remain well prepared to navigate the constantly changing landscape of sustainability and environmental responsibility. By joining forces with such companies, we collectively contribute to a more sustainable future while driving positive change within the industry.
Eric Fisch
Senior Vice President, National Sector Head, Retail and Apparel
HSBC Bank USA N.A.
 Sustainability and circularity are core to the values of HSBC. We have committed to becoming net zero in operational emissions by 2030 and net zero in financed emissions by 2050. In order to achieve these ambitious goals, we will need to partner with our customers in every sector to find innovative solutions to reduce waste and develop new processes. More consumers are using sustainability as a lens for what brands they support, incentivizing retailers to make progress on quantifiable targets. This has taken many forms, including at the physical retail locations and warehouses as well as throughout the supply chain and production process.
Our retail and apparel clients in the U.S, have been some of the first to embrace new initiatives such as sustainable supply-chain finance that allows HSBC to provide more-cost-effective financing to factories that demonstrate better sustainability scores. We have launched programs like this with Walmart, PVH, Puma and Levi's, with quite a few others in the process of onboarding. At HSBC, we are focused on a just transition that helps all parties develop a commercially sound approach to sustainable business. As such, the benefit of tools like sustainable supply-chain finance is finding ways to create positive incentives that benefit both sides of the transaction. With a $1 trillion commitment to sustainable financing, HSBC is committed to finding ways to support our clients' transitions.
Dave M. Reza
Senior Vice President, Western Region
Milberg Factors, Inc.
 At Milberg Factors, our experience is that most of our apparel clients are adopting and implementing ESG practices based on feedback from consumers, vendors and their retail customers.
We discuss topics such as ESG and circularity within the context of understanding the contemporary business environment in which our clients are operating. Like all factors and lenders, we require our clients to comply with all local, state and federal regulations that apply to their industries.
If a client requires additional or new support to meet government or customer requirements, then we would consider support in the context of their overall financial requirements. If we become aware of new legal or regulatory requirements that could affect our clients, we will proactively bring it to their attention and, if necessary, modify our agreements accordingly.
Kevin Sullivan
Senior Vice President, Regional Credit Manager, Commercial Services Group
Wells Fargo Capital Finance
 Wells Fargo actively seeks to finance companies with an environmentally sound approach to producing products. While we can't typically tailor financial decisions specifically around whether we believe a client's production approach is environmentally sound or not, we're operating in an environment where the consumer is now beginning to demand it. Customers are now much more knowledgeable about where product is produced, how product is produced and how sustainably a garment is produced. While in the past major retailers spoke extensively about sustainability and corporate responsibility, they are now insisting on proof of it, even if it means shifting a major relationship to another supplier despite a long track record of success with a legacy supplier. We're also seeing a trend toward repurposed garments for a consumer that's very cognizant of limiting the amount of waste they generate through the products that they purchase.
Our guidance to our clients is that they absolutely need to be looking at producing product in the most sustainable manner possible or they run the risk of being replaced by vendors who do. As part of our sustainability goals, Wells Fargo has committed to deploy $500 billion in sustainable finance between 2021 and 2030. This includes financial products and services that support clients or client activities that promote environmental sustainability, so it remains a large focus of the bank as a whole.
Kenneth L. Wengrod
Vice President Global Trade and Foreign Investment
Los Angeles Area Chamber of Commerce
 There is a growing emphasis on corporate responsibility and building transparent and sustainable supply chains. This shift has significant implications for apparel companies and their lenders.
Apparel companies can benefit greatly from embracing:
• Transparency: Implement robust traceability systems by tracking raw-material origins, monitoring production processes and ensuring ethical practices. Partner with suppliers who prioritize transparency.
• Sustainable Materials: Prioritize the use of sustainable materials like organic cotton, recycled polyester and renewable fibers. Reduce harmful chemicals and minimize water usage.
• Circular Design: Adopt circular design principles by creating products for longevity, recyclability and easy repair. Implement take-back programs and recycling initiatives.
• Ethical Labor Practices: Prioritize fair labor standards and safe working conditions throughout the supply chain. Comply with recognized labor standards and conduct regular audits.
Lenders should examine key factors regarding potential borrowers:
• Environmental Impact Assessment: Evaluate potential borrowers' environmental performance, considering factors such as carbon footprint, energy efficiency and waste management. Encourage reduction targets and sustainable practices.
• Social Responsibility: Consider borrowers' commitments to fair labor practices, human rights and community engagement. Assess compliance with labor standards and certifications.
• Transparency and Reporting: Encourage borrowers to disclose sustainability-related information such as ESG metrics. Evaluate reporting practices.
• Innovation and Research: Support borrowers investing in sustainable innovations. Fund research and development projects aligned with sustainability goals, advancing eco-friendly materials and circular business models.
Incorporating sustainability criteria into lending decisions incentivizes responsible practices. Open communication and collaboration between companies and lenders are crucial to align goals and prioritize sustainability. Trust and verification should take precedence over short-term gains to maintain a sustainable supply chain.
* Responses have been edited for clarity and condensed for space.