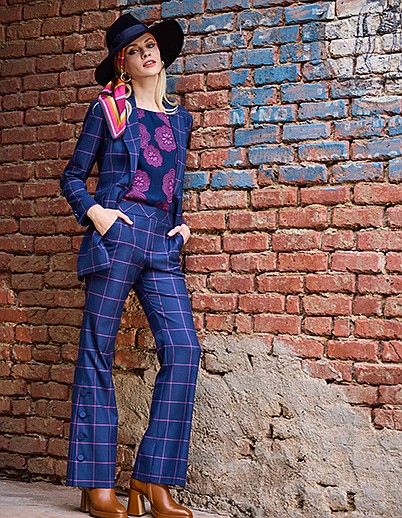 EAST MEETS WEST
Trina Turk Takes Fashion Back to 1970s NYC for Fall 2023
This season's Fall 2023 "Seventies SoHo" collection by Trina Turk takes the designer's clientele back to an era when the City That Never Sleeps awoke and rocked the world through avant-garde art, glamourous fashion, groundbreaking music and wild parties.
The Trina Turk messaging for Fall 2023 took inspiration from Jane Fonda's role in the 1971 American neo-noir psychological thriller "Klute." The brand described the collection's themes as "a vibrant cab ride through 1970s New York City. Pulling from the architecture and energy of lower Manhattan, each style is a nod to the street-smart glamour of the era."
"We are always pulling inspiration from the '60s and '70s—it's a big part of our DNA," Turk said. "In this collection, I think that moody, downtown, 1970s New York City vibe was a great counterbalance to our bright California aesthetic, and it brought depth to the collection.
Naming many of her colors for New York neighborhoods and points of interest, the collection relies on Greenwich Green and Bryant Park Bordeaux for the city's coolness, while Downtown Pink and LaGuardia Lime relay the vibrance of the city. Though Turk chose rich, deep hues for the Fall 2023 collection, she also applied bright, warm colors that might seem to be more suitable for summer, but the designer makes them work beautifully when applied to autumn styles. Pops of Downtown Pink in an urban-friendly floral awaken the softer bohemian tones.
The textiles that Turk chose for Fall reflect the romantic side of New York, yet the ways in which the designer styles the pieces allow them to retain the edge for which the city is known. Silk chiffon is elevated from its typical softness into the Fulton Floral Clipped Jacquard. A sueded poncho in Greenwich Green with short bell sleeves serves as a solid overlay to bold geometric-patterned flares in cooler greens and blues. Leatherette yields elements of a rock 'n' roll edge that plays into the more glamorous side of the genre.
In her Chelsea Chevron Satin Georgette, which relies on a rainbow of warm magenta, Downtown Pink, sky blue, moss green and corn-silk gold, Turk taps into the California influences that have shaped her brand. The pattern is applied to women's suiting in a smart blazer paired with matching flare trousers that are meant to stand out amid the hustle and distractions of a busy city street.
A Trina Turk collection would not be complete without the designer's beloved caftans. Approaching this silhouette with a New York sensibility while maintaining the essence of the brand required bold details. Turk delivered with a Guggenheim-inspired geometric print in silk with hot-pink feather detail.
Another 1970s staple that remains a fall favorite—wide-wale corduroy—is applied to suiting in a bright-pink hue and flare-pant silhouette that can be worn to make a statement while walking to work or out to see a favorite band.
The California designer also expanded on her denim offerings with Fall 2023, blending the jeans styling of the 1970s in New York City with her blue-blood heritage of the Golden State. Denim offerings have evolved with a button-close jacket in a slim silhouette that features a point collar, chest and hip front-patch pockets with button flaps, bishop sleeves, and a tie waist. Vintage-inspired wide-leg denim trousers complete the look.
"Fall is always a strong season for textile development because we can bring in luxurious fabrications like suede and leather and explore rich novelties like this season's Chelsea Chevron Knit Jacquard, Klute Corduroy and Quilted Satin," said Turk. "We knew we wanted some strong tailoring options to help deliver the theme but also wanted to balance those with casual elements that would bring a certain downtown nonchalance, like our denim separates or prints on soft chiffon and jersey bases."
One aspect of Trina Turk dressing is that, despite the brand's elegance and smart styling, it remains extremely versatile. In fact, a focal point of Turk's Summer collection was designing to allow customers the freedom to pair certain warmer-weather pieces with the upcoming Fall collection. This push to inspire clients to pair new Trina Turk pieces with those from previous seasons aligns with the designer's growing sustainable efforts, which include domestic U.S. manufacturing for certain styles.
"Versatility is something our customer is definitely looking for," Turk said. "Something that can be worn more than one way is always good."