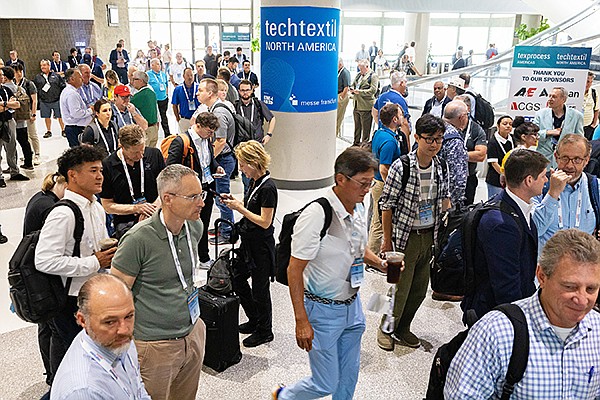 TRADE SHOW REPORTS
Colocated Shows Highlight Advancements and Trends in Textile Design and Manufacturing
Technology and textiles convened in Atlanta May 10–12 for the
Techtextil North America and Texprocess Americas shows, which drew over 350 exhibitors from 30 countries plus thousands of attendees representing the entire textile supply chain. This unified edition of Techtextil North America and Texprocess Americas created a powerful environment for business development, with innovations, products and technologies on full display.
The 2023 edition offered more features than ever before, including the Symposium sessions, Tech Talks, Tech Zone, and Career and Training Center, as well as the first-ever Innovation Awards in the Americas for technical textiles, nonwovens and the sewn-product industries. The three-day colocated exhibitions highlighted advancements and industry trends in textile design and manufacturing, supply-chain optimization, and workforce development.
"The reason we are here is to interact with new clientele," said Justin Hershoran of Aptean. "We actually see great results from this show. Every time we have done it, it leads to solid sales for us. It's not just the marketing, it's the real dollars that come in as a result."
Attendees were also pleased. "This is one of the nicest shows I've been to in years," said Alan Brant of Himiesa. "It has a very professional air to it, and its displays are nicely done. This is an A-plus show."
The Symposium dove into such timely topics as supply-chain evolution, manufacturing innovation and sustainability. "More than ever, these conversations are about real solutions," said Jennifer Guarino of the Industrial Sewing and Innovation Center. "I thought the discussions were very inspiring and very challenging, which is exactly what we need at Texprocess Americas."
The Career and Training Center, a new feature, combined professional development with practical training, with representatives sharing valuable resources related to the industry's career landscape. Hands-on training was conducted by Sewn Products Equipment and Suppliers of the Americas association members Merrow Sewing Machine Company and ISAIC.