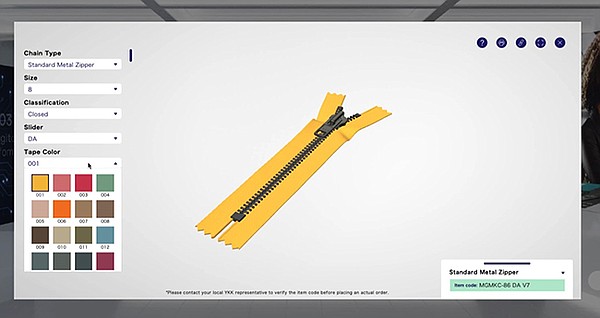 TECHNOLOGY
YKK-VNTANA Collaboration Yields 3D Trim Configurator
Los Angeles–headquartered 3D infrastructure platform VNTANA has partnered with Tokyo-founded fastener manufacturer YKK on the development of the YKK Trim Creator. This 3D trim-configurator technology offers an efficient trim-design process to industry professionals, easing communications between designers and buyers.
"As we constantly evolve to provide the best service for customers, we are laser focused on speed, quality and sustainability," said Takayuki Kato, vice president of YKK Corporation's global marketing group. "Digitalization through a tool like the YKK Trim Creator helps us achieve all three."
Designers are able to specify their desired fastener characteristics and generate 3D designs in real time. The simulation presents designs with the desired sizes, colors and sliders. These designs are tagged with YKK codes, which allow buyers to easily identify order numbers, while 3D-model URLs can be generated to share the design. Designers are also able to apply changes according to customer feedback prior to manufacturing.
"It immediately displays the design in 3D, which improves visualization, reduces the need for customers to request physical samples, speeds up the design process, and decreases waste and the need for shipping samples around the world," said Kato.
The YKK Trim Creator promotes a sustainable process by reducing the need for physical zipper samples, which decreases waste and shipping costs. These benefits support standardization, supply-chain efficiency, reduced costs and an optimized sales process. These benefits also decrease the carbon footprint of each design and promote greater fashion sustainability.
The May 17 launch of this technology follows a 2022 YKK survey through which customers reported the need for a digital tool that would allow them to customize a finished zipper according to size, material, function and color. Respondents also wanted the ability to correctly identify item descriptions and codes for customized zipper designs.
"So many designers and brands lose valuable time using legacy, analog tactics such as catalogs and item samples for product selection," said Chief Executive Officer and co-founder of VNTANA Ashley Crowder. "The YKK Trim Creator is an example of how VNTANA's software can provide the back-end infrastructure needed to improve the digital design process to make it functional and effective for brands."