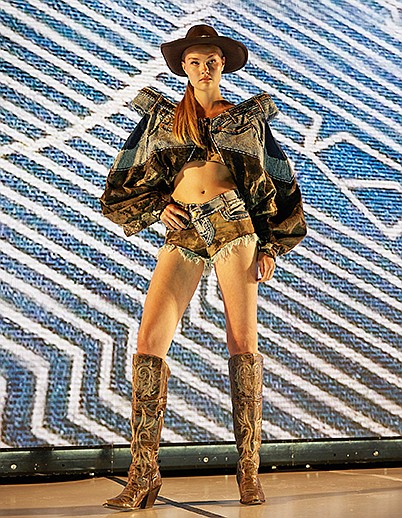 FASHION
Otis College Gives 'Artistic License' to Design Students
The Fashion Department at Otis College of Art and Design celebrated fashion designers of the future at its annual runway show, held May 12 on the Los Angeles school's campus commons. The theme for 2023 was "Artistic License" and paid homage to the freedom given to artists and designers to interpret, redefine and enrich the world according to their own unique creative vision.
Throughout the year students explored artistic license through their work to not only inspire and uplift but also to develop new technologies, raise social awareness and address environmental sustainability. Otis students also collaborated with nonprofits working to create positive change in L.A. and with mentors to raise awareness around environmental issues, creating a closed-loop system where materials are reused, repurposed and recycled.
Participating students included Antonio Finamore, Christina Fong, Carly Amber Jarrock, Yuri Kwak, Leena Liu, Yihan Liu, Zhiyou Pan, Sabrina Thomas, Victoria Thu Duong, Linjie Xu, Chelsea Yang and Kiki Zuo.
Industry mentors included Amy Enuke for Guess; Rhonda Summer for Under Armour; Zihaad Wells, Xena Aziminia and Chris Lester for True Religion; Leonardo Lawson and Jonathan Kirby for Gap x Balenciaga; Mark Virgil for Ralph Lauren; Jonathan Simkhai; and Marcus Clayton.
"Our students thrive on sheer passion, tenacity and a relentless pursuit of excellence," said Jill Zeleznik, chair of Otis Fashion Design. "The program's unique signature is to learn directly from notable industry leaders who generously share their time and expertise."
This year's fashion students were also challenged to reinterpret legacy collections, including drawing inspiration from digital gaming platforms, designing fabrics using 3D printing and developing 3D renderings that brought their designs to life for Activision Blizzard's game Diablo. "Our partnership provided a unique opportunity to translate futuristic designs into runway-ready looks with outstanding results," said Tim McGrath, art director at Activision Blizzard. "With technology now enabling us to bridge the gap between real life and digital worlds, through our partnership we were able to highlight the skills and creativity students can bring to our industry."
The fashion show was part of the school's annual event entitled O-Launch, a weekend where Otis College showcases a new generation of artists and designers with a campus-wide exhibition of student work in animation; fine arts; and environmental, game, graphic, product and toy design.